I have my long term goals for preparedness items.  These preps include  expensive stuff I'm  saving up for. Preps that will take time for me to reach my goals on, like freeze dried foods.  Then I have the preps that I look for  as good deal on  each time I go to the store.  Preps I wind up making my way through quickly, or want to make sure are as fresh as possible, or might have an extra few bucks to purchase that month.
Canning jars and lids.  About now I've used every single canning lid I owned putting up the latest season's garden goodness.  Purchasing a few hundred canning lids at once isn't going to fit the budget, so from now until I'm restocked, I'll pick up a box or two of wide mouth canning jars.  Maybe it's time to check out the reusable Tattler lids!
Matches, lighters, stuff to start a fire.  I have this fear, in the back of my mind, that I'll have every prep known to man…….but I won't be able to start a fire.  Hey.  We all have our weird.
Over the counter medication.  It may be aspirin, AlkaSeltzer, cold medication, or something else.   This helps make sure I'm not only well stocked, but things stay rotated as too.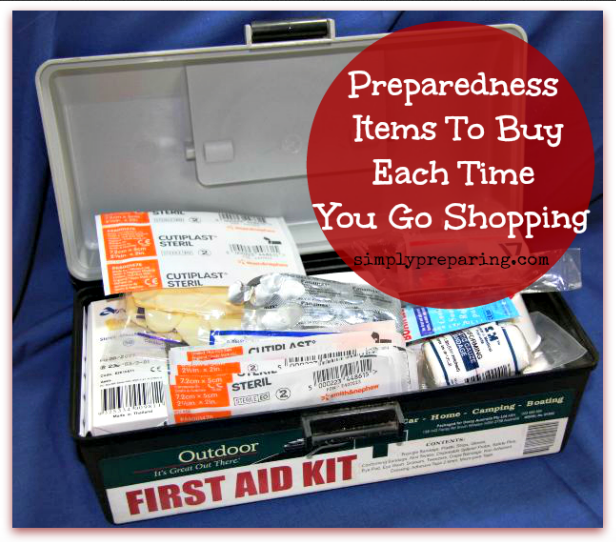 Something First Aid.  Bandages.  Antiseptic Cream.  Coban. Boxes of surgical gloves.  Sterile guaze.  Butterfly strips.  Trauma scissors.  Medical reference books.  Fish Antibiotics.  Travel Wipes.
Bottled Water.   Cause, seriously.
Toilet Paper
Crisco.  The three brick pack to be specific.  No, it's not the cheapest way to procure the stuff.  *blush*  HOWEVER, I fill a half gallon canning jar up with the pricey little gems, vacuum seal it, and it lasts WAY longer than the cans of Crisco last on my shelves.  And while I've read can burn (even rancid) cans of Crisco in an emergency for light, I'd rather not.  Shoot me.
Batteries
Maps of your area.
Sewing supplies.  Needles.  Thread.  Elastic.  Items to make  repairs with, and items to create new products too. 

Baggies and Garbage Bags
During the year, I'll switch things up.  If I've met my goal in one area, I'll replace that with a new one.    None of these things are expensive and there's always something from each category on sale.  You'll list of things will look different from mine, as we each work to meet the needs of our families.
It really IS possible to prep SIMPLY and a little bit at a time.
*Affiliate Links have been added to this post.