Snow is starting to fall and that means unpredictable winter weather is upon us. Taking simple steps now to plan ahead for winter weather emergencies can help thwart a disaster. Here are three posts that can get you started in your winter weather preparations in and around the home.
But what if that unpredictable winter weather decides to wreak havoc when you are on vacation?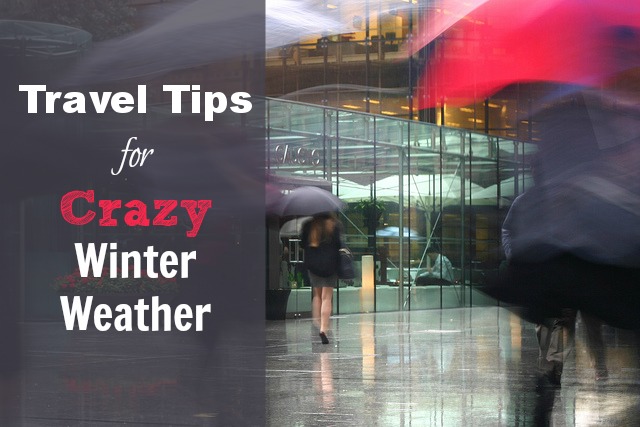 Many of us travel to either play in the snow or to escape the snow during the winter months. Here are some tips for airline travel preparedness.
Traveling by car can present a different set of challenges in unpredictable winter weather. Here are some tips for car travel preparedness.
Ice scraper (it is mentioned in that post but I want to make sure you have it).
Siphon pump and gas can.
Kitty litter for giving your tires traction in the ice and snow.
Protein bars, water and ready to eat meals.
Matches
Light sticks
Flares
Cell phone signal booster and extra battery chargers like a Mophie.
Something new I am trying out is the ISIS wallet for my cell phone. I have a pre-loaded American Express Serve card linked to it and I can pay for things anywhere you see those tap to pay machines at checkouts just by touching my cell phone to it. They seem to be everywhere. When I travel I plan to load the card with enough money to pay for one nights hotel room if I get caught without  a wallet or debit card. It's one more back up. Prepping is all about having a back up plan of your back up plan.
We all know that emergencies can be big or small but interrupt our lives non the less. Travel insurance is one way to protect your vacation investment from mother natures winter sense of humor. I am using Travel Guard for the first time this winter on a vacation I would hate to be stranded on, or worse yet, never make it to because of travel delays. It was 1/2 the price of the travel insurance the cruise line company was trying to sell me and offers better protection. I do feel a better sense of security using this. If you want to learn more about travel insurance you can join me at TravelingMom.com for a #WinterHappens Twitter Party next Monday night, November 25th,  at 9 pm EST by using #TMOM & #WinterHappens. They are giving away some awesome Hunter Boots and a Hunter Umbrella which would make a great addition to your prepping gear. Make sure to RSVP on the post at TravelingMom to win.
*Proper disclosure: I have compensated relationships with TravelingMom.com, #VZWBuzz for Verizon Wireless and OnStar. I have long term relationships with each of these companies because I whole-heartedly believe in the companies and products. My mention of any of these relationships is purely out of benefit to the readers of this blog.