Survival lighting options. There are a lot of them. Today I want to share with you my new favorite, the Luci Inflatable Solar Light. It is going to be your new favorite too.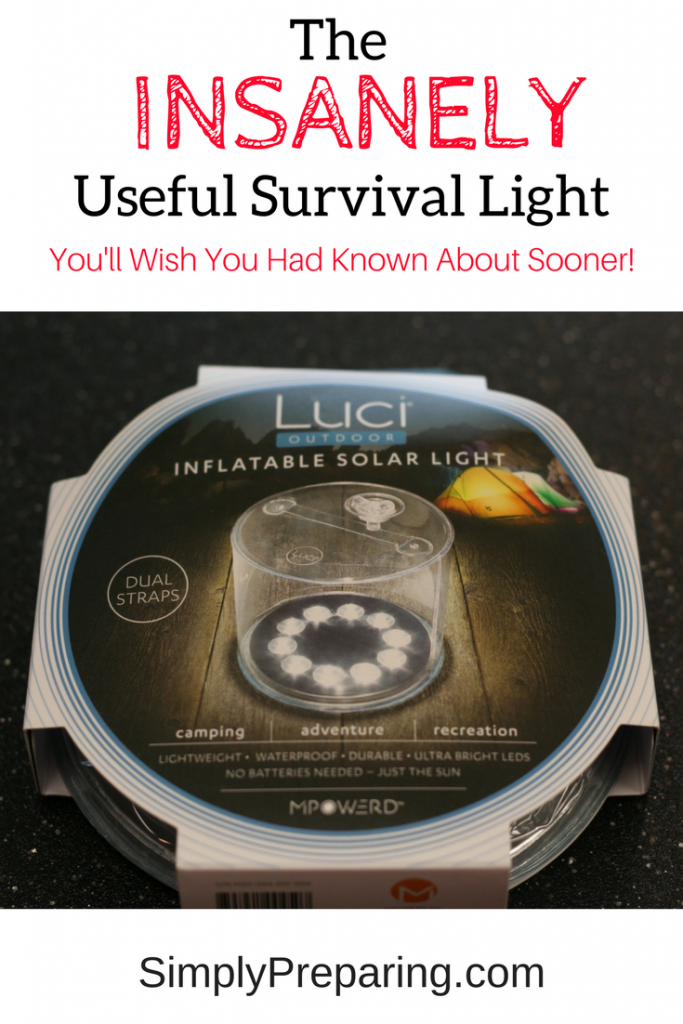 How I Discovered the Luci Solar Light
I was invited to be part of a group buy for several preparedness items, one being the *this post contains affiliate links Luci Solar Light. Life being busy, when it arrived, I stashed it in my emergency closet, and promptly forgot about it.
Just keeping it real.
When I pulled out all of my family's Bug Out Bags to update and rotate out the food within, I rediscovered my Luci Light, and have been putting it to use ever since.
Why The Luci Light Is At The Top Of My Survival Lighting Options
*This amazing*this post contains affiliate links inflatable solar lantern requires no batteries, which means one less thing to forget while it saves you money!
*Provides up to 12 hours of light on a single charge.
*It stores easily. It is exceptionally lightweight, and deflates down to less that 1 inch tall. There are few survival lighting options that you can slip into a bug out bag that adds almost zero weight and takes up little space.
*Requires only a few breaths of air to inflate.
*It's very affordable, especially considering it's a solar lantern.
Pro Tip: The Luci Light is the perfect solar option for camping trips, RVing, boating and off grid living!
How Long Does It Take To Charge The Luci Light?
Fully charged after 8 hours of sunlight, the Luci Light then retains 95% of that charge each month. This means that a fully charged light will still work after being in storage for 3 years!
Expect 50 lumens of high quality, bright light within a 12 foot area.
Survival Lighting That Is Kid Friendly
I appreciate how kid friendly the Luci Light is. The PVC enclosure is waterproof, and includes handles for easy carrying even by the littles. As a matter of fact, these would make safe and effective night lights too, without need of batteries, gas, or a wall to plug it into.
Pro Tip: Looking for an emergency lighting option for your college kids' dorm room? The Luci Inflatable Solar Lantern fits the bill!
What's In Your Nightstand?
You are startled awake in the middle of the night due to an emergency. You reach to turn on the lights and discover the electricity is gone. While others may panic, you know you can reach into the drawer of your night stand (or under your bed, in a dresser drawer, etc.) and have light right at your finger tips. This is what the Luci Light is all about.
Don't Wait For A Disaster
When disaster hits, the time to prepare is past. Don't wait to increase your family's ability to weather an emergency. Get your Luci Light now.