An emergency road trip kit can make or break a family trip. Besides the essentials for a mechanical or health emergency, an emergency road trip kit should contain things that make your family comfortable and happy in case of the little bumps along the road, like unexpected delays or fun side stops. Remember: prepping is about preparing for both the little things and the big ones.
State Farm sent me a tote bag containing a Road Trip Safety Emergency kit for a recent road trip I took. It sure saved the day as our 2 hour drive turned into an unexpected 6 hour drive. Here is how you can replicate this.
How To Make An Emergency Road Trip Kit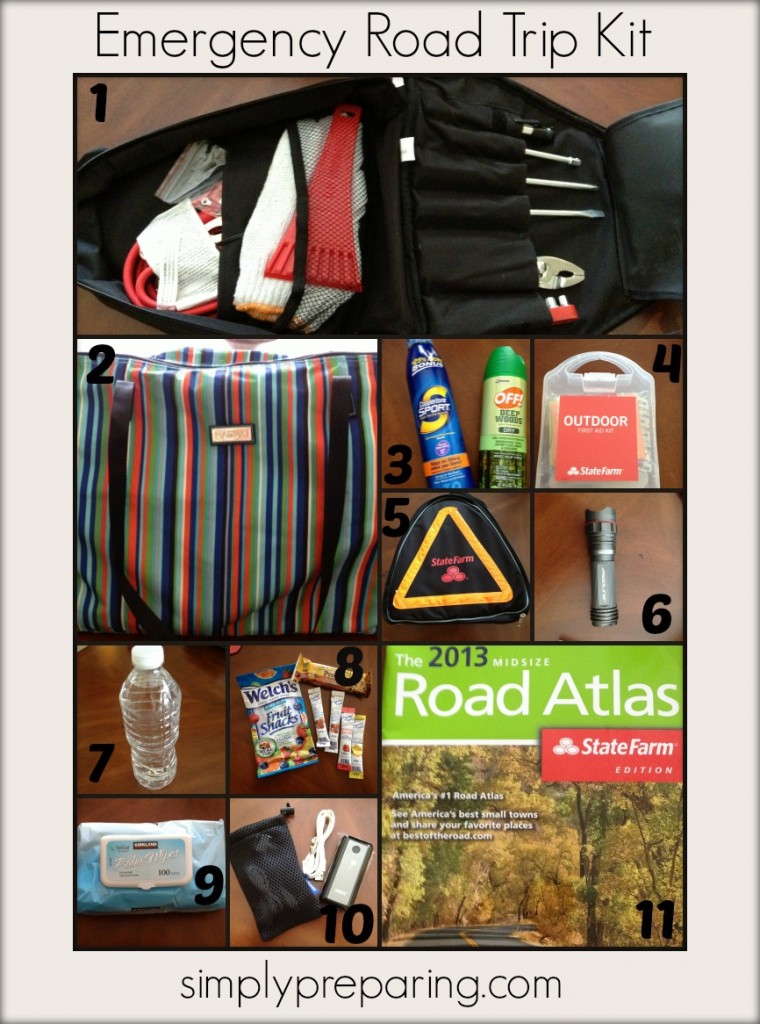 State Farm suggests drivers keep a an emergency car kit like the one pictured here that is good for all purposes

A reflective hazard warning sign (this one's a carrying case)
Jumper cables
Ice scraper
Tire pressure gauge
Ratchet set
Pliers
Screwdrivers
Electrical tape
Automotive fuses
Work gloves

You don't need to have something as fancy as this Hadaki bag, but it sure is fun! Any tote that zippers and holds all the contents of your kit is just fine.
Sunblock and Bug Spray. Great for those unexpected side trips that can occur!
First Aid Kit
Roadside Emergency Kit
Bottled water. I like to keep a whole case in the trunk as well.
Snacks. Some with higher protein and some just to keep your spirits up.
Baby wipes.
External battery pack for your charger.
Road Atlas. See how I plan to use maps in an emergency. This is a great time to make notes on what's around you when you travel.
For tips on how to winterize your emergency road trip kit please visit this post.
There are many other great road trip safety tips available but I want to hear from you. What's in your emergency road trip kit?