I love helping to support small family businesses and I love coffee so when a friend told me about Brown & Jenkins, a small, family owned coffee roaster in Vermont I was more than intrigued. The more I learned about how their process is organic and they have an eye towards sustainability I became a fan. And then I found out that they are fans of the prepper movement, I thought we were a marriage made in heaven! Given their expertise I asked them to help us learn the best way to store coffee for our preps!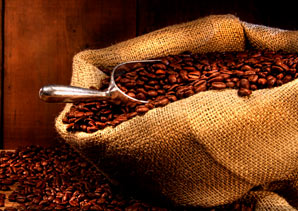 Coffee is an important part of my short term prep plans but storing coffee as part of long term storage is much trickier. Brown & Jenkins has the following advice:
What is the best way to store coffee?
If you need to extend the shelf life beyond 3 weeks, you should store your coffee in the freezer. Whole beans can be kept fresh in the freezer for up to six months.
They suggest keeping the coffee beans in the poly-lined bag it came in and placing that in a heavy duty freezer bag (ziplock) and storing the beans in the freezer.
Once out of the freezer keep your whole bean coffee in a cool, dry cupboard. Or place in the storage chamber of your mill wheel grinder.
Why should I grind my own coffee?
The truth of the matter is, that ground coffee goes stale much more quickly. Coffee will begin to loose its flavor immediately after grinding. The purchase of a grinder and grinding your own coffee beans just prior to brewing is one of the most important steps you can take to improve the flavor and aroma of your coffee.
How should I grind my coffee?
The simple fact is that the finer the grind, the easier it is for the water to extract the flavor, and the more flavor you will get from a given amount of coffee. So it would seem as though we should grind all our coffee as fine as possible, however two other factors come into play…the brewing method and the clarity we personally desire in the cup.
How fine should I grind my coffee?
This leads us to the brewing method. Basically, you should grind your coffee as finely as your brewing method will allow. You don't want to slow down the brewing process with a grind too fine for your machine or some unwanted flavor characteristics would begin to be extracted.
Brown & Jenkins suggests grinding coffee you are using in a french press to the same consistency you would for your drip pot. So practice what you would grind your beans to when you have the luxury of an electrical coffee maker and you will be all ready to go when your only option is to use this:
This is all wonderful advice for staying sanely caffeinated in an emergency situation but what if I want to have long term storage of coffee?
The recommend way by most preppers is three things:
Store instant coffee. I wrote a post on my love for Via by Starbucks not too long ago as a short term prepping item.
Store whole green coffee beans, learn how to roast them yourself as needed. You need to store the whole green beans in mylar bags with o2 absorbers like you would most other long term storage items (tutorial coming on mylar soon)
Deal with the degraded taste and store 10# cans of brands like Folgers.
Brown & Jenkins was kind enough to offer two bags of coffee to one lucky reader. You can even visit their site and pick out any of the 10 oz bags you want if you win. After looking through all their flavors, I think I am going to put an order in for the coffee club and look at it as a way to force me to store more coffee with the adage of rotating it out so I am constantly "drinking what I store and storing what I drink".
And in case anyone is wondering on my relationship with them, there really is none except that a good friend works with them and I really admire their commitment to their business and love of coffee. I wasn't compensated in anyway to tell you about them (I didn't even get free coffee out of it like the winner will 🙂 )