There are many reasons that you would need to know how to turn off water to your house: broken pipes, frozen pipes, and outside water contamination are just a few. For today's Sunday Skill you will need to find where the water comes into your house. If you have a house with a basement, it is probably there. Mine happens to be housed in the basement next to the sump pump. If you have a single story house in a warmer climate, chances are your water shut off is in the garage or near your washer and dryer. This is what my water shut off valve looks like. Your valve may look very different than mine, it could have a lever, a screw or a hose bib.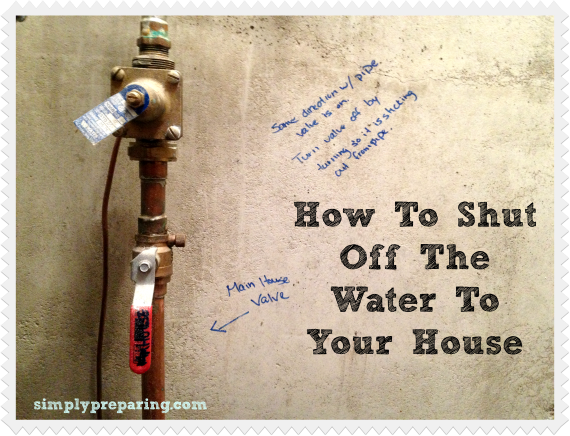 As you can see in the picture, I took a sharpie and wrote on the concrete so that anyone in the house would know exactly which levers to turn and how. You could always create a nice looking direction sheet to keep near yours. Mine is in a closet so it didn't matter.
How to Turn Off Water To Your House Video Instructions:
I'd love to have you check in by leaving a comment if you have done this simple prepping project and any hints you have for others trying to complete this weeks skill!