Unlike any other election in history, the 2016 Presidential election stands to go down in the books as the election that divided the country. After the last vote has been counted, and the winner announced, a peaceful transition of power may be more than can be asked of our weary nation. It's time to start thinking about preparing for possible post-election survival needs.
Making matters even more stressful, are warnings of terror threats being reported by CBS News.
Rather than living in fear of what the future may bring, I've complied a Post Election Survival Checklist to help families through a potential trigger event. I'm a big believer that preparedness brings peace of mind.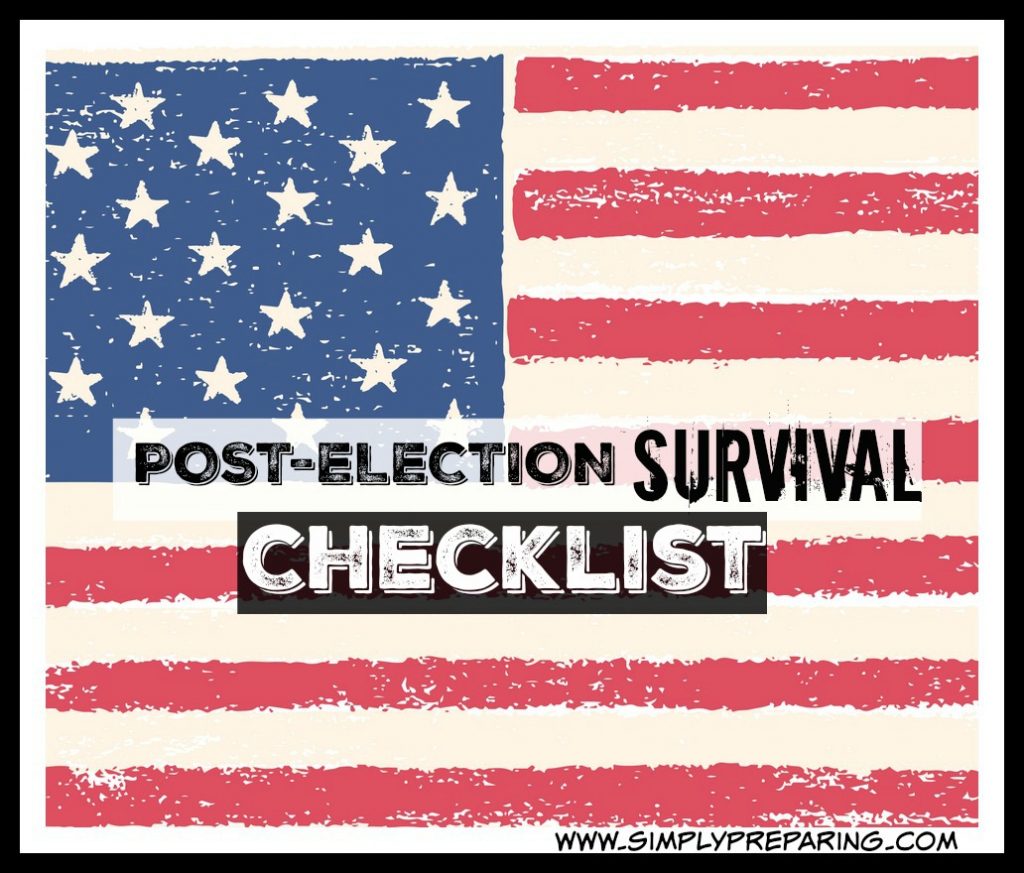 A Post-Election Survival Checklist For Uncertain Times
-Sit down with your family and review your emergency plans. How will you get to your meeting place if chaos breaks out?
-Getting through any post-election survival chaos will take community, so take some time to plan with your like minded neighbors. You'll have their backs and in return, they'll have yours.
-Test out your communication devices.
-Inventory your food storage because NOW is the time to make sure you are well stocked food wise .
– Make sure your water storage will get you through at least a two week period.
-Confirm that you have enough personal supplies such as toilet paper, feminine supplies, diapers, etc., to make it through at least six weeks.
-Update your First Aid Station by refreshing your supplies as needed, focusing on OTC medications as well as basic first aid supplies. While you're at it, make sure to get any prescriptions refilled.
*this post contains affiliate links
–Black Contractor Bags. If garbage collection gets interrupted you're going to need to have a place for any garbage that won't fit into your cans. Also, black contractor bags have countless survival uses.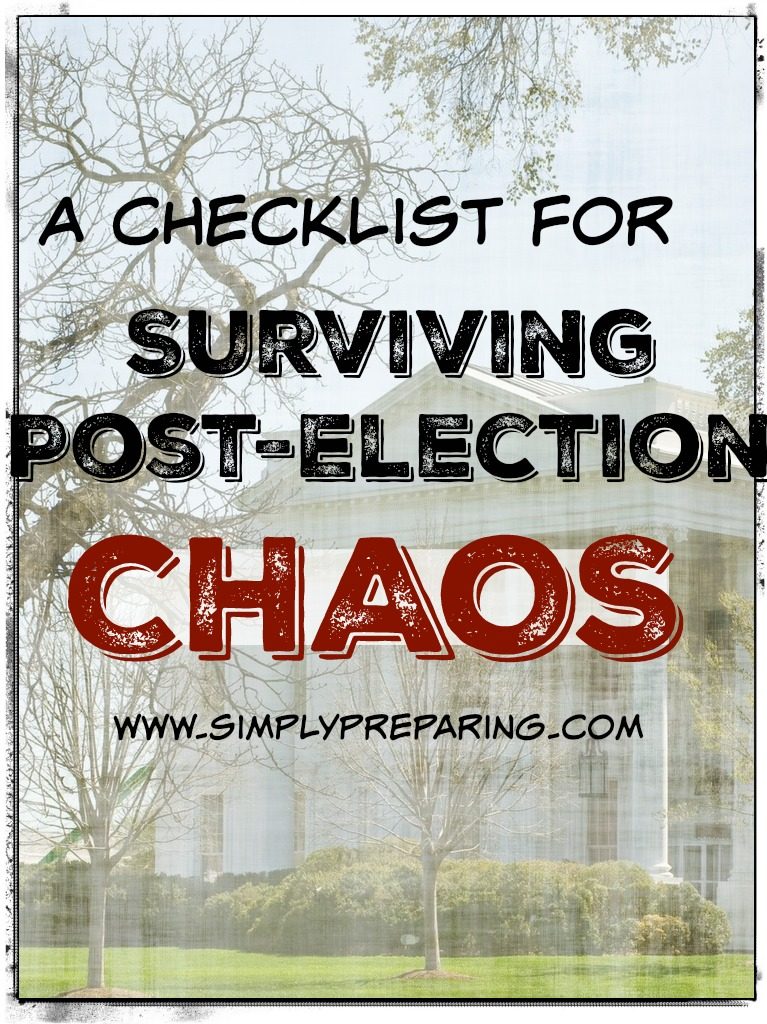 Kids, Pets and Getting Out of Dodge
-Have activities ready for kids in case everyone is stuck at home for a long period of time.
-Remember Fido by picking up any pet supplies needed for the next several weeks.
-Fill up all the gas tanks on all your cars, then if you need to get the hell out of Dodge, you won't have to stop to fuel up first.
-Speaking of cars, if you have any election bumper stickers, then you may want to remove them. No need to give anyone who hates who you voted for any ideas of whom to blame.
-Get some SHTF Cash out of the bank, remembering to ask for small bills only.
If The Lights Go Out In the Post-Election Survival Chaos
*this post contains affiliate links
-Check your supply of candles, lighters and matches.
-Do you have flashlights, furthermore, do those flashlights have batteries?
-Keep your cell phone and other devices charged up.
-If you have a propane heater or another secondary source of heat, make sure you have enough fuel for it. Otherwise, make sure you have enough blankets, hand warmers and other cold weather items.
Prepare NOW.
Civil wars are caused by a loss of trust in government, as a result, self reliance in times of concern is our most valuable asset.
Interested in learning more about how to prepare for emergencies? Here are a couple of great resources:
The Prepper's Blueprint: The Step by Step Guide To Get You Through Any Disaster
Prepper's Long-Term Survival Guide
Save
Save
Save
Save
Save
Save
Save
Save
Save
Save
Save
Save
Save
Save
Save
Save
Save
Save
Save
Save
Save
Save
Save
Save
Save
Save
Save
Save
Save
Save
Save
Save
Save
Save
Save
Save
Save
Save
Save
Save
Save
Save
Save
Save