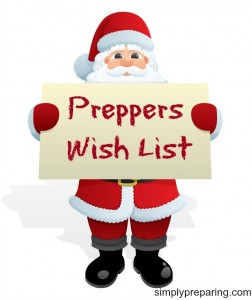 Instead of the latest useless gadget this year, why not get some emergency preparedness gifts for your loved one? Here are a list of items that are guaranteed to be on your preppers wish list!
Stocking Stuffers:
Instead of putting them in a traditional stocking, I think it would be cute (and more useful) if Santa had a Bug Out Bag hanging in its usual place with all of the above in it!
Preppers Wish List Going Bigger:
Dehydrator
Canning Supplies (Tammy has some great money saving advice on canning supplies)
Pressure Cooker (not electric)
Foodsaver
Cast iron pans
Campstove (don't forget the fuel)
First Aid Kits
Car emergency packs (Costco had a really nice one for $29 the other day)
Tent
Sleeping Bag
Fishing Gear
Hunting Gear
Emergency Toilet (could be a good gag gift that is REALLY appreciated someday)
100 hour candles
Going REALLY Big:
Rain Barrels (check Craigslist for people that deliver in your area and only buy food grade & pressure washed)
Generator
Solar panels
Big Berkey Water Filter
Sun Oven
Big Buddy Propane Heater
Hand grain mill
Free DIY Prepper Gifts
Emergency Contact Roster (utility companies, RedCross, etc.)
The most important prep we can have in my opinion is close relationships with friends, family, neighbors and loved ones. Take the opportunity this Christmas to reach out and connect with people. Maybe plan a spring camping trip, or offer to volunteer teaching skills you have, make a date to have some friends over to work on canning and food storage, or even set a date to go thrift store rummaging after the holidays. Remember: the greatest gift we can give is ourselves!
Happy Holidays!