Sadly, many of my friends are going through their own personal emergencies and disasters: loss of a job, death in the family and even a good friend starting breast cancer treatments as a single mom. Thankfully, I feel blessed to be a part of each of their support system as I know they would do the same for me if the situations were reversed. Each personal disaster that I see my friends go through brings me back to the heart of what this site is about: preparing for the unexpected. Too often "preppers" are painted with a Doomsday brush. But really, the majority of us that prep are more trying to be ready for those unexpected bumps in the road that involve your own family.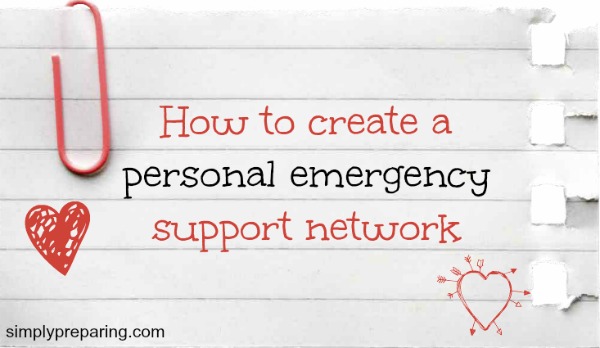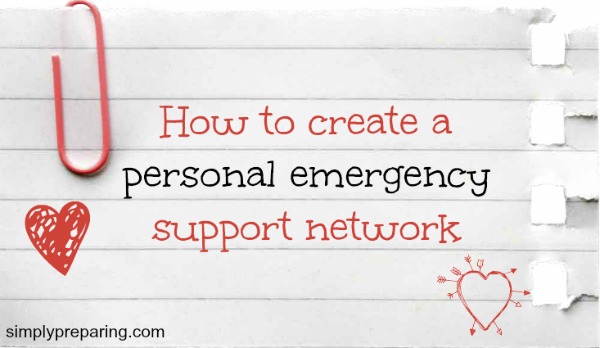 This post is about creating and sustaining your own personal support system. I am blessed to have a group of friends who would be at my door in seconds with meals for my family, rides for my kids, or a mop to help me clean. I know. I have seen them do all of that for members of our group. Many churches organize groups like this as "relief societies", mine is an informal network of friends. It doesn't matter how you find your group. The point is you need to either make one or get involved in one.
Sit down today and walk through your average day in your head. Now, imagine, you had to have an emergency surgery and couldn't be there. Make a list of all the possible things you could need help with and who could be there to fill in for you. If you are relying on a spouse, remember, they are going to need help helping you!
Who is going to get the kids up, dressed and feed them breakfast in the morning? Can your spouse take a few days off? Do you have vacation time or sick time set aside for that? Or extra money put away to cover the time off? Could one of your parents help? Are the kids old enough to do it themselves if that just meant pouring cereal (have some extra on hand?). Have you taught your kids how to make themselves very simple meals like scrambled eggs?
How will they get to school? Do you have a back up like a carpool group? Or a neighbor? If they ride a bus do you know your neighbors well enough to look after your kids at the stop? If you homeschool do you have independent lessons they can be working on? Or learning activities like puzzles or a fun computer game that they can do until you are better?
Who will cook dinner? Do you have a nice stack of take out menus around? Do you have freezer dinners (hint: I am posting some great recipes for this weeks Sunday Skills)? What about your support group?
What about your pets? Do you have enough extra food around for them? A neighborhood kid who could walk them and clean up after the dog in the yard?
Do you have someone who could take over your role at work? PTA? Church? Really wherever people count on you…do you have a backup?
The above questions are meant to get you started thinking about who you could count on for back up for a short time. But what happens if your emergency is a bit longer? I have a friend with 5 kids who broke her leg in multiple places this year. Her recovery process is likely to be 6 months. What if you needed help for that long?
How to Create or Find a Support System
The old saying "To Have a Friend Means You Must First Be A Friend" comes to mind. Have you volunteered to bring dinners, give rides, or otherwise help a friend in need? Do you check on your elderly neighbors regularly? Offer to take them to the store or pick up things for them? Same thing for the mom with a new baby! Creating an attitude of community caring in your life will go a long way when its your turn to need help. If you belong to a church, talk to them about spearheading a committee for this. How about just talking to your friends and creating a circle of people that want to give and get this type of support? For the friend with a broken leg, we used the service Take Them A Meal to plan out who could help with dinner. My friends used a simple spreadsheet in google docs when I needed help this summer. It's not hard. It's about being there. And about understanding that no matter how prepared we are, everyone needs help now and then. Make a support network part of your prepping plans!