March is Frozen Food Month and frozen vegetables will be on sale at stock up prices.  Now is the time to learn how easy dehydrating frozen vegetables is!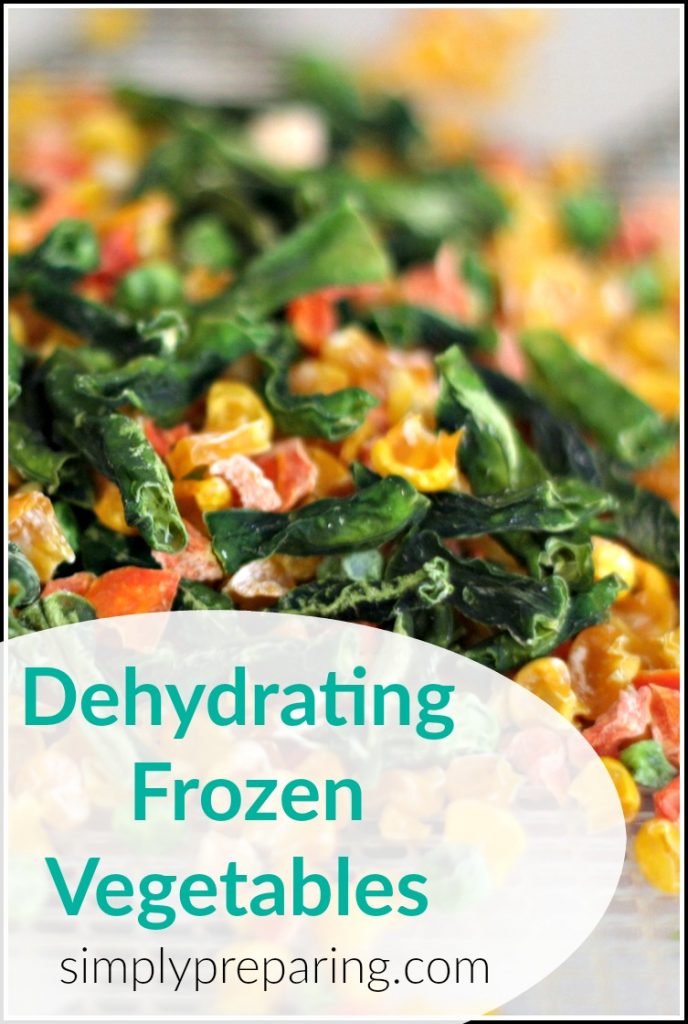 Why You Should Be Dehydrating Frozen Vegetables
Unless you have a really big garden, dehydrating frozen vegetables is much cheaper than buying fresh, and you can dehydrate frozen vegetables year round.
Dehydrating frozen vegetables requires no washing, peeling, slicing, chopping, or blanching,  saving you a lot of time.
Needs less room (much less!) for storage!
*this post contains affiliate links
Dehydrators
I use an Excalibur Dehydrator, and love it.  I also own a Nesco dehydrator, which is much cheaper and works really well for dehydrating frozen vegetables.   You can quickly and easily recoup  the cost of both of these dehydrators in just a few months of dehydrating your own fruits and veggies.
Dehydrators can often be found at yard sales, but so far the ones I have come across are usually missing most of the trays, or the trays and sometimes the motors are so covered in hardened gunk, that I pass them up.  But keep your eyes open for dehydrators at yard sales and thrift shops, as your luck may be better than mine!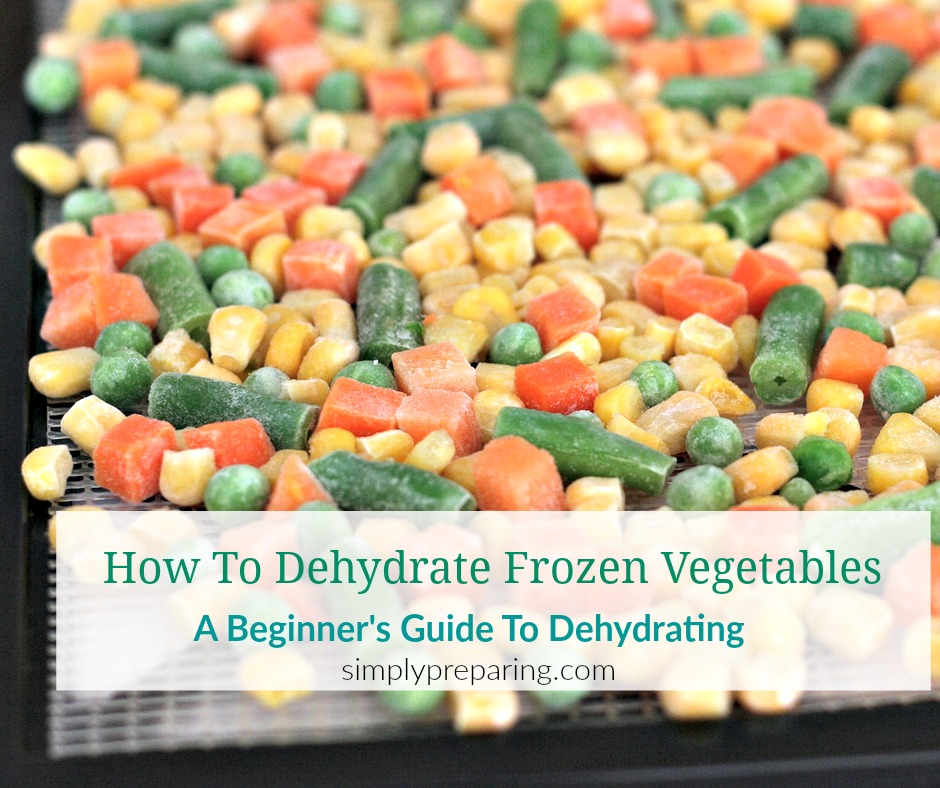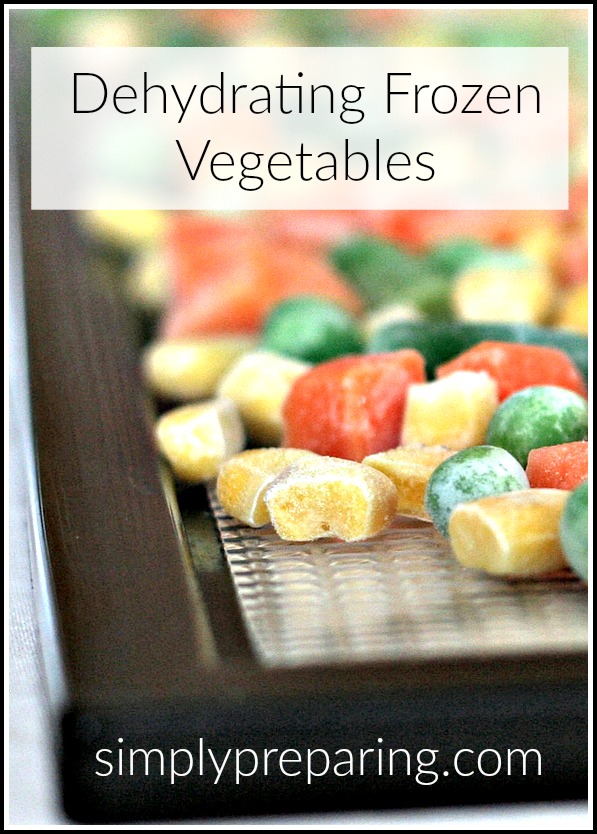 How To Dehydrate Frozen Vegetables
Simply spread out the mixed veggies on the dehydrator trays. I didn't worry that the pieces were touching, I knew they would shrink as they dried and it wouldn't be an issue. As a matter of fact, my one POUND bag of veggies shrunk down to 3/4 of a cup!
I dehydrated these @125 degrees and they took about 10 hours. Please look at your dehydrator model to see what temperature is correct for your machine. The time to dehydrate will always depend on the humidity in the room where you are dehydrating.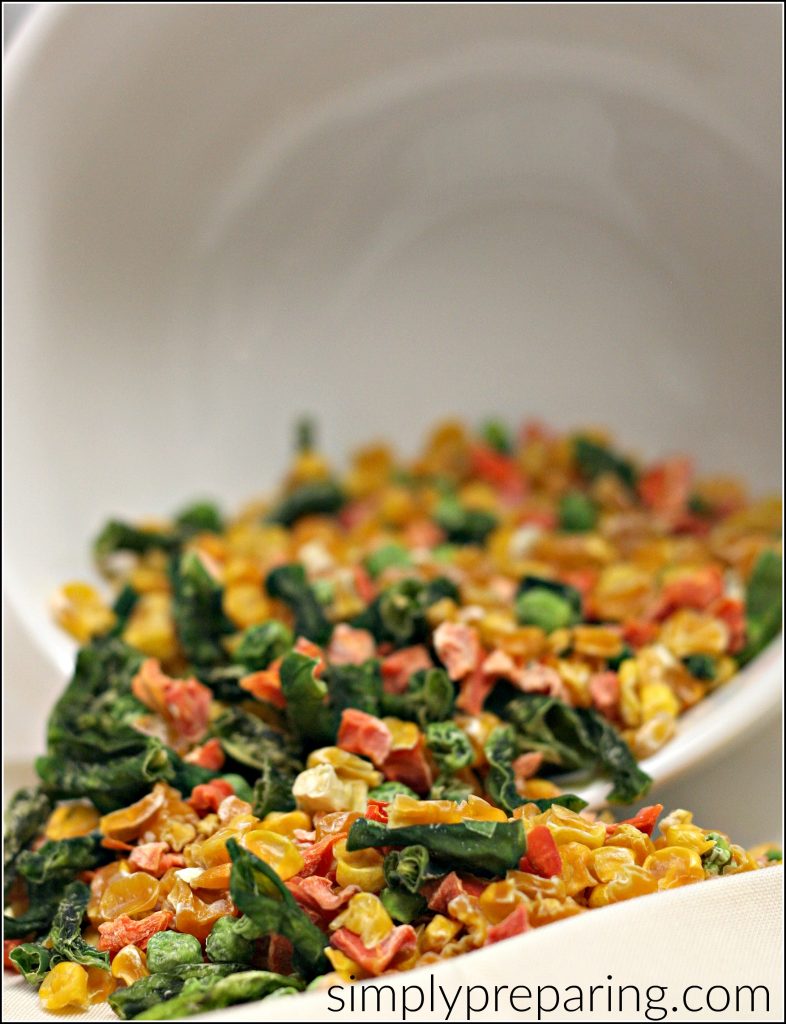 Storing Dehydrated Frozen Vegetables
Now that you have a batch of inexpensive dehydrated frozen vegetables, you'll need to store them properly. Here's where a Food Saver comes in so handy!
My favorite way to store my dehydrated vegetables is to pour them into a wide mouth canning jar, and using the mason jar sealer accessory, vacuum seal the jar. You won't need a ring for this, the vacuum sealing will securely keep the lid on.
Vacuum Sealing Mason Jars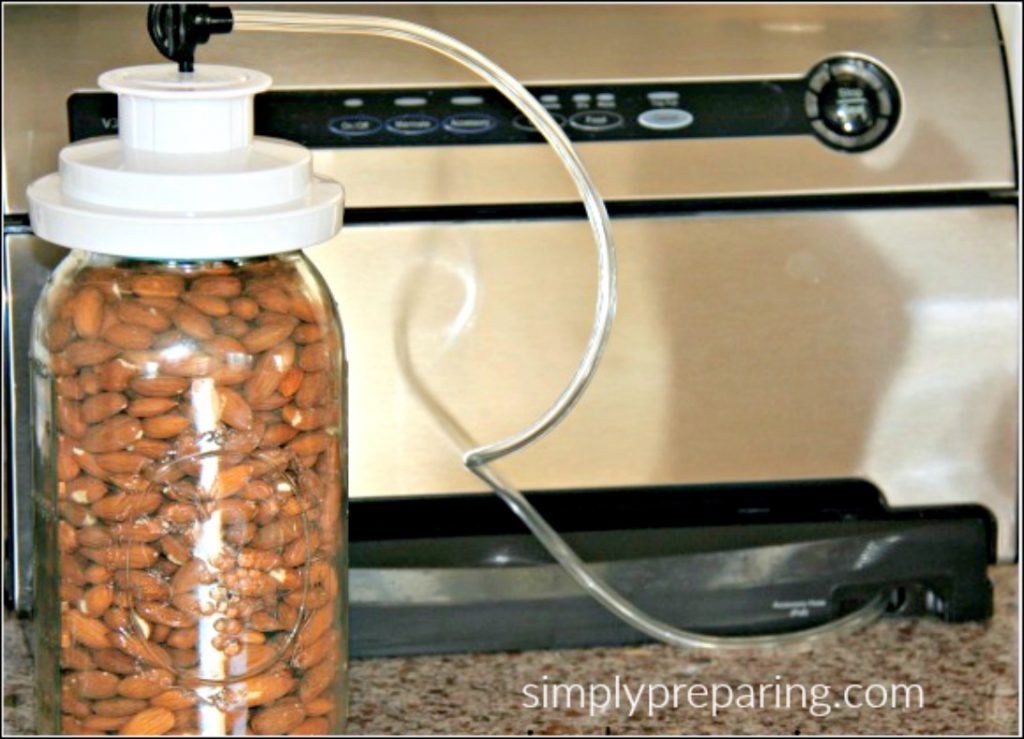 This method will keep your dehydrated goodness fresh for at least a year. It's always a good idea to check your lid seals every six months or so, to make sure it's still up to snuff. Simply press on the middle of the lid, if the lid gives and makes a popping sound, you seal is no longer good.
If you would like to add a little more 'insurance' this storage method, you can add an oxygen absorber to your jar before you vacuum seal it. I do this quite often.
Tip:  If you would like a bit more in depth description of how to use a Food Saver to vacuum seal canning jars, take a look at this video.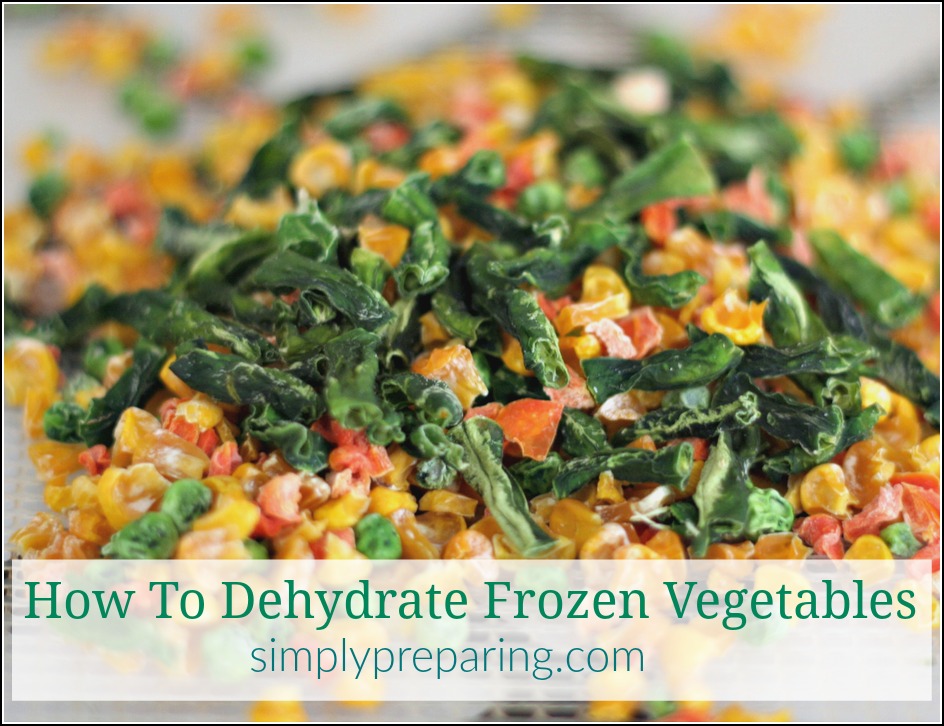 What To Do With Dehydrated Frozen Vegetables
Add a handful or two to soups or stews. Perfect for crockpot cooks!
Add some to a blender and turn them into a veggie powder. This powder can then be added to all sorts of things you'd like to up the nutritional value of.
Smoothies!
Use for camping and hiking trips.
LOVE the idea of having veggies and fruits in your long term food storage as a hedge against inflation and emergencies? We've got you covered! Thrive carries a wide variety of freeze dried foods for this very reason!
So, which frozen vegetable will you be dehydrating first?
Save