When was the last time you used a printed map? In this day and age of GPS and Smartphones not many of us do anymore. It's a skill many of our kids only get a glimpse of in 2nd grade Social Studies. But printed maps have an important place in the prepared home.
Looking at the lessons people are learning from Hurricane Sandy got me thinking how a printed map would have been useful for many of those families desperately looking for gas and other resources. Since Sandy is a localized disaster, in many cases the towns next to those hit hardest where operating as usual. But how many of those people knew where to find resources in the nearest town without an Around Me or Yelp apps? Or knew which back roads to take to avoid long traffic lines and road closures?
One of the things I found in my grandmothers things when she passed were travel journals. She would write things down that they passed that would be helpful to know about next time. I started doing this when we road tripped when the kids were little. Sure, I mostly wrote down where the best indoor play places were, but it is the same concept. I can't tell you how many times it helped me remember that the cleaner restrooms were off exit 100 or silly things like that.
Today I challenge all of you to get maps of your city, your state, and those of surrounding states within driving distance. If you are a AAA member, they will send you maps for free. Or, you can use their interactive maps to print off ones with several things already marked off for you. You can sometimes get free maps at the tourist brochure places inside hotels or attractions. You can even go to MapQuest.com and print some off.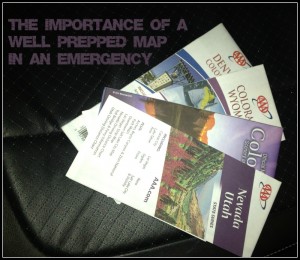 Now, lets use those maps to start marking places that would help us in an emergency. Places to consider marking:
Hospitals
Police Stations
Fire Departments
Large high schools, middle schools and elementary schools (often used as temporary rescue stations)
Gas Stations (especially ones off the beaten path)
Hardware stores
Camping Areas
Grocery Stores
Truck Stops
Churches
Hotels and Motels
As you travel in and around your areas, take a mental note of where you could find resources that not everyone is going to hit up. That small gas station 20 miles away may be a much better bet than the one 1 mile down the road off the highway with a 5 hour line.
Keep your maps in either your 72 hour emergency kit or your car so you are always prepared to find your way without the help of technology.