Winter Storms are in full swing all over the country. If you are not quite prepared, here are 11 things to do before a winter storm to keep your family safe.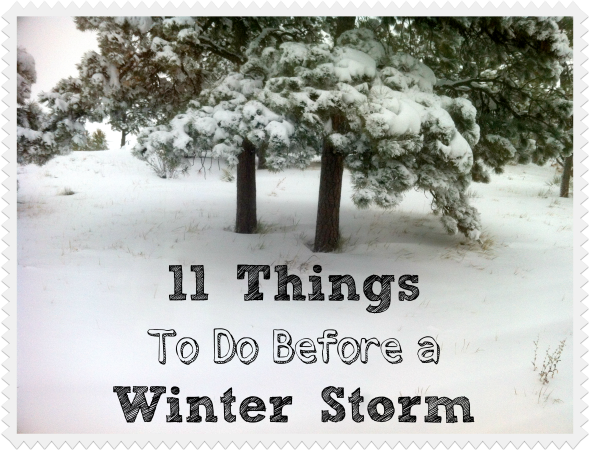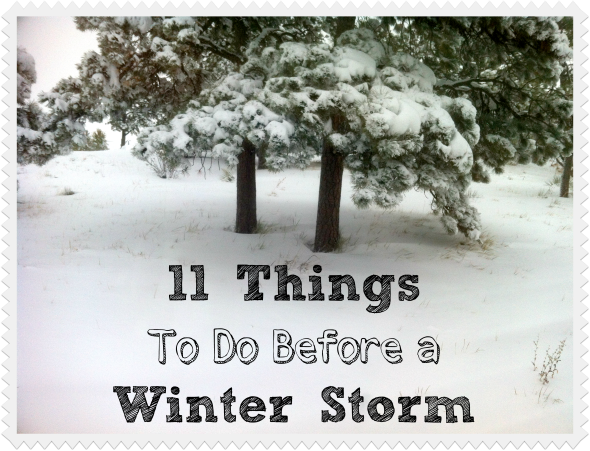 Gas up your cars. Its a good idea to own a quality hand pump gas siphon in case you need to transfer gas to a different tank or put it in a generator.
If you have a gas powered generator, make sure you have plenty of gas stored in safety cans to keep it running for at least 7 days. Gas genenerator owners should turn on their generator and make sure that it is in good working order. It's not uncommon for them to get all gunked up. Do you have spare parts for it if you need to fix it during the storm? No matter how your generator is powered, its a good idea to have much more fuel than you think you would need!
Go to the store and make sure you stock up on any of the fresh items you may need to top off. You hopefully have plenty of freezer meals as a backup and also a 3 month supply of meals if you needed to draw from your stockpile if you can't make it to the store or they have run out of supplies.
Bring in any outdoor furniture that could fly around or you don't want to be sitting under piles of snow.
Check on your elderly or disabled friends and neighbors. See how you can help them prepare or offer them a safe place at your house if it is needed.
Check the batteries in your emergency weather radio, smoke and carbon monoxide detectors. Replace as necessary.
Plan extra treats for animals that are used to being outside. Bring them inside and make sure you have plenty of supplies for them.
Make sure you have all family members home before the authorities put travel restrictions in place. Double check that no one is in a vehicle without winter survival kit.
Make sure you have wrapped all outside or vulnerable pipes from freezing. Commercial products that you can find at home stores is best for this but in a pinch layers of newspaper or rags are better than nothing. Know what to do if a pipe freezes during the storm.
Get your snow removal plan in place. Double check the snowblower. Make sure you have an ample amount of oil and gas for it. Spray shovels down with Pam cooking spray to make the snow slide off easier. Line boots, gloves, and jackets up ready to put on before shoveling begins. Make sure your shovelers have something to cover their mouths with to protect their lungs.
Plan ways to heat your home if the power goes out.
Plan a smaller area in your home that would be easy to close off to keep warmth concentrated in one area.
Firewood for a wood fireplace.
Heavy blankets to cover windows for insulation.
Camp Stove with an amply supply of fuel.
Portable gas heater and a place to make sure it is well vented. Make sure to keep it at least 3 feet away from furniture or anything flammable.
Sleeping bags and warm winter wear.
IMPORTANT BONUS TIP (I can't believe I left this off)! Make sure you have refilled all necessary prescriptions and that the elderly or disabled people you check on have as well! Read through the list of important Over-the-Counter medications you should have on hand!
Winter storms can be a nuisance but for a well-prepped home they can be a time of family bonding and relaxation. Make some cocoa, read a new book or play a new family game and enjoy knowing that all of the time you have spent prepping will help your family make it safely through most winter weather!
What advice do you have to share with beginning preppers for things to do before a winter storm? Please leave advice in the comments!