Water storage has been on my mind since the state of Michigan's crisis with safe drinking water that began several months ago. Flint's tap water became contaminated with too much lead after the city switched it's water supply in 2014 to save money while under state financial management.
Ensuring residents have safe water to drink has been a struggle. You can't boil lead out of water. People have been told to not drink the water until it has been determined to be safe. Guard members have finally been called in to assist the police and volunteers to hand out bottled water, filters and water testing kits.
Then to really add insult to injury, the residents of Flint are still being required to pay their water bills. You know, for water that is too dangerous to drink. Think toxic waste dangerous. Swell. All I can say is thank goodness for celebrities.
I keep thinking of how much less stressful things might have been if residents would have had a supply of water storage instead of having to scramble and depend on the government. As a matter of fact, it's being reported that Michigan officials knew last year that Flint's water might be poisoned, but chose to keep that possibility to themselves. Sweet, eh? The FDA is conduction a full review of the situation.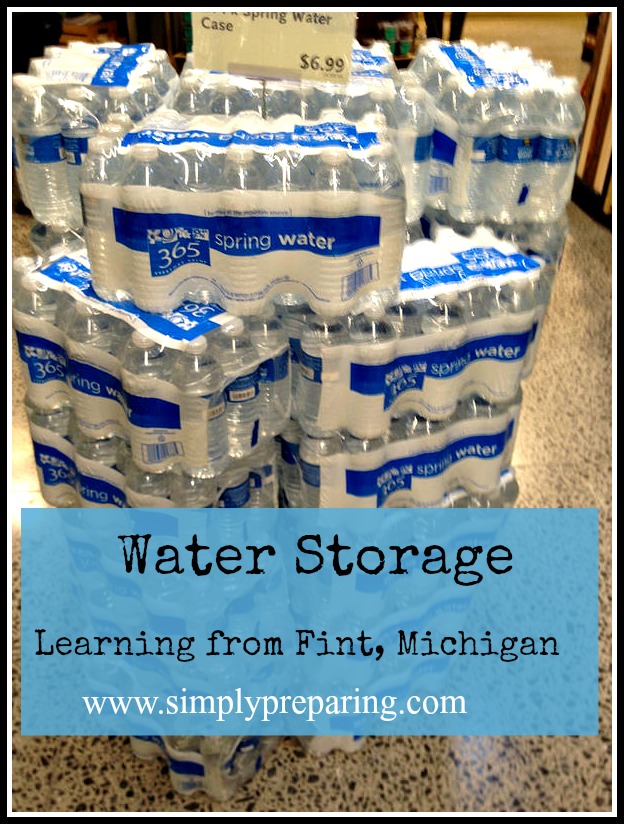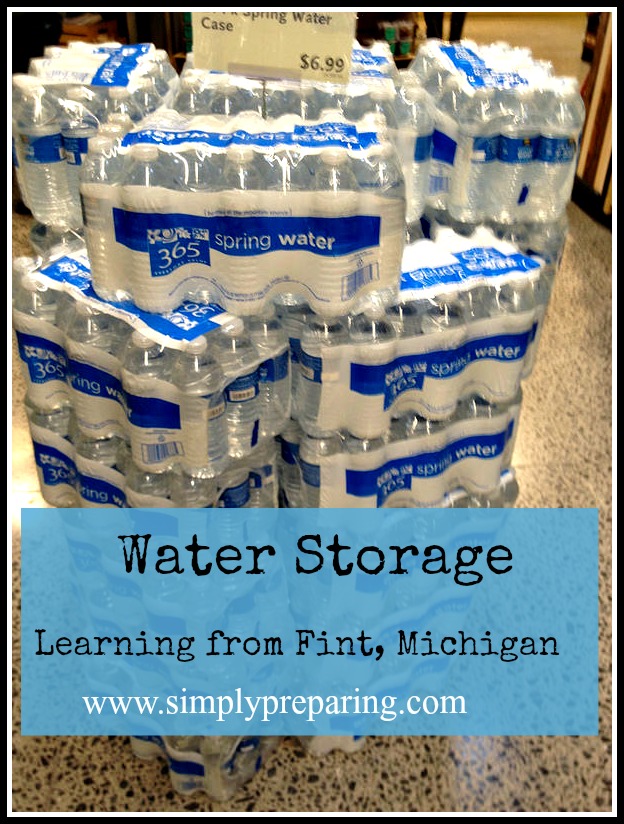 I've written about emergency water storage on the blog and Barb created this information filled post to help you calculate your family's water storage needs. It's a good time to review both posts.
Here are a few more things to consider when storing water.
*Don't use empty milk jugs for water storage. The plastic is too thin and will break down within a few months. Bacteria from the milk can become lodged in the plastic of the jug and then transferred to your water.
*Do not store your water near gasoline, kerosene, pesticides or similar substances.
*If you have a pool, you have water you have water for cleaning and bathing, but NOT for drinking. While pool water has been chlorinated, it most likely has other chemical in it that are not safe for drinking.
*Properly stored water does NOT go bad. However, it may taste funky. To solve this issue, just pour the water from one container to another several times, back and forth. Or store things such as Kool-Aide, lemon or lime juice, to help with the taste of your water.
The time to prepare for an emergency is now. Not after things fall apart. Do your research. Make your plan. When you are prepared you don't have to worry about any crisis down the road.
How is your water storage coming along? What techniques work best for you when storing water?
Photo credit: rakerman via VisualHunt / CC BY