I am a flashing neon 'DINNER' light for mosquitoes. Because of this, I need a strong mosquito deterrent. And, if it can be natural, all the better! Therefore, after a lot of research, I've put together this Outdoor NO BITE Spray.
A Word Of Caution
I don't live in an area where there is a great concern for mosquito born illnesses. So, what I share here is based on my personal experiences. Unfortunately, I have no studies to back up my claims either. YOU need to do your own research, and speak with your own Doctor in regards to what is best for YOUR family.
*this post contains affiliate links
Ingredients For Outdoor NO BITE Spray
8 ounce Boston Round Bottle
2 ounce Boston Round Spray Bottle
10 Drops Peppermint Essential Oil
8 Drops Thieves Essential Oil Blend
10 Drops Purification Oil
5 Drops Rosemary Essential Oil
5 Drops Kunzea Essential Oil
6 ounces Witch Hazel OR Vodka
Ask Me How You Can Get A DISCOUNT When You Order Young Living Essential Oils!
Outdoor NO BITE Spray Method
Using a funnel, add 6 ounces of either Organic Witch Hazel or Vodka to a 8 ounce Boston Round Bottle.
Next, add the 6 essential oils. Screw on lid and shake well.
Since I like to throw my No Bite Spray in my purse or backpack to take with me on the go, I pour it into a 2 ounce Boston Round Spray Bottle. I simply refill it as needed.
No Time To DIY? Young Living Insect Repellent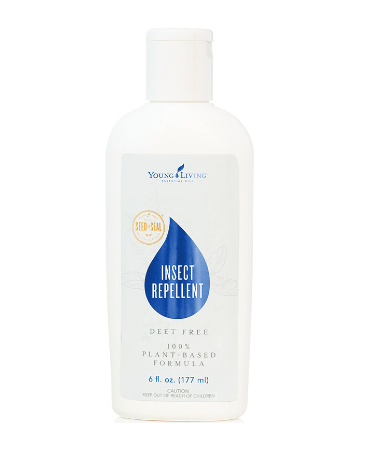 Because Young Living's Insect Repellent is tested to repel mosquitoes, ticks, and fleas using only 100 percent naturally derived, plant-based ingredients, you can even use it on your little ones!
Looking For More Essential Oil Recipes?
Homemade DIY Gardeners Soap With Essential Oils
Simple DIY Facial Toner With Essential Oils
DIY Manuka Honey Recipe For Preppers