I love a good DIY Body Spray with essential oils. But, it's got to have a fragrance that lasts. And It can't be drying. Finally, if you don't want to have to continuously shake the bottle before I use it, I have a couple of solutions. All of this in an DIY Body Spray , you may ask? Absolutely.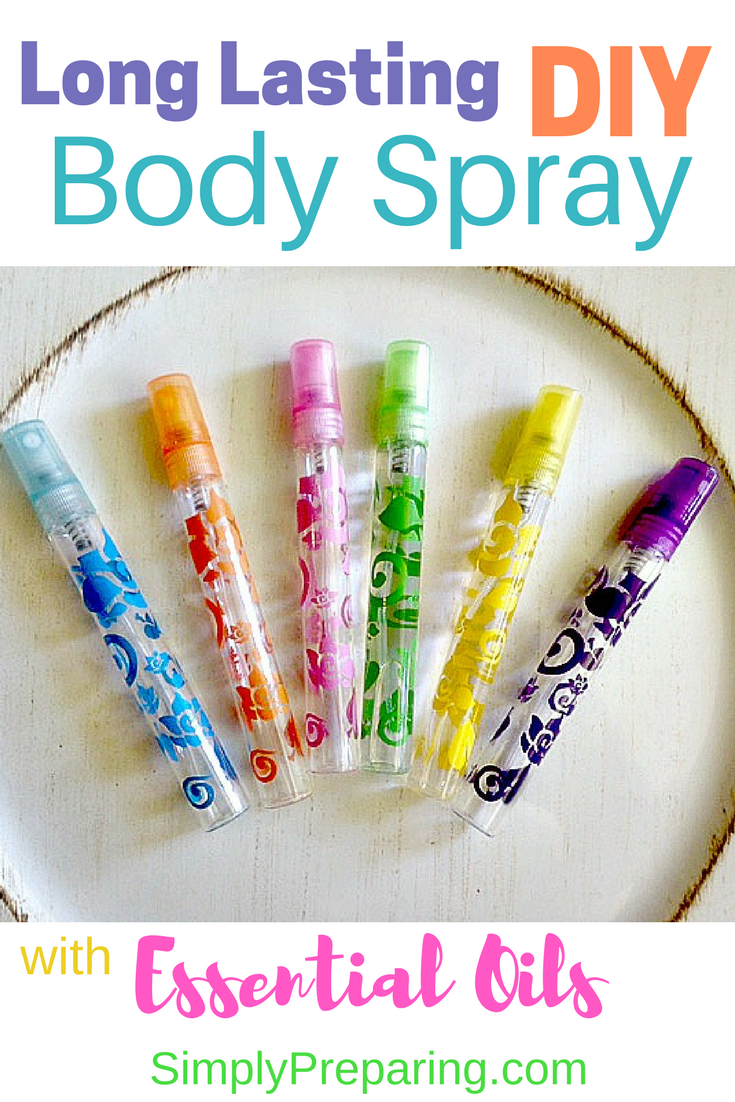 Witch Hazel. Water. Vodka. Oh, MY!
I prefer to keep it easy and use only vodka in my body sprays. I like how quickly vodka evaporates, and I like how vodka helps preserve my essentials longer than water or witch hazel. If you are worried about the expense of using all EVERCLEAR, substitute 1/3 distilled water for 1/3 of the EVERCLEAR.
I'm giving these to my son's Teacher's and Therapists for an at the end of the school year gift. I plan on making a card that says something like, "Wishing You A STRESS Free Summer AWAY From All Your Worries……" Okay. So the card is still a work in progress, but you get the idea.
Why I Add Glycerin To My DIY Body Spray
Glycerin helps to offset any potential drying effect from the EVERCLEAR used in this body spray recipe. It also helps the essential oil fragrance blend to last longer on your skin. I use 1/3 in my body spray recipe.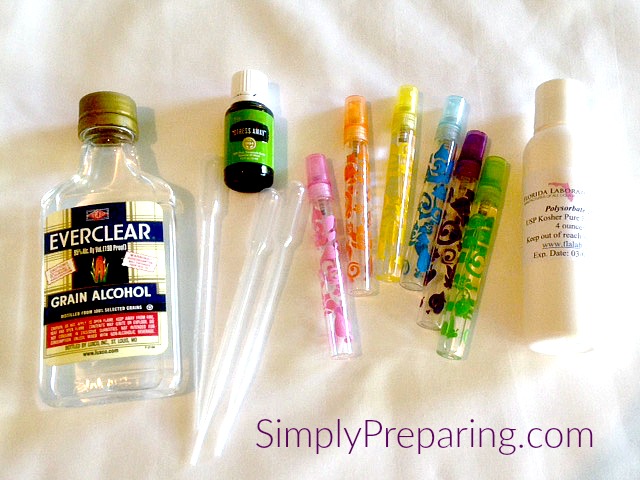 DIY Body Spray With Essential Oils Ingredients
*this post contains affiliate links
EVERCLEAR Grain Alcohol
4 Drops Polysorbate 20 (*OPTIONAL see below)
4-5 Drops Stress Away Essential Oil Blend Here's where you can order Young Living Essential Oils.
3ml Disposable Essential Oil Pipettes
Spray Bottles I used these gorgeous glass 1/3 ounce spritzer bottles. I absolutely LOVE them, and will be giving them as gifts. But they are a thinner GLASS that I would not carry in my purse. You may want to go with an aluminum spray bottle, or a thicker glass spritzer bottle. Pay attention to how much your spray bottle holds, and adjust the recipe accordingly.
The Method
The spray bottles that I used are 1/3 of an ounce. I had 6 bottles, so that came to 2 Ounces of DIY Body Spray. My ratio for body spray base is 2/3 EVERCLEAR and 1/3 Glycerin. I usually just eyeball it, using the disposable pipettes to transfer the EVERCLEAR and Glycerin to the *this post contains affiliate links spray bottles.
Remember, if you would like, you can substitute 1/3 of your EVERCLEAR for distilled water. Keep the glycerin amount the same.
Shake until everything is well blended….and you are ready to go!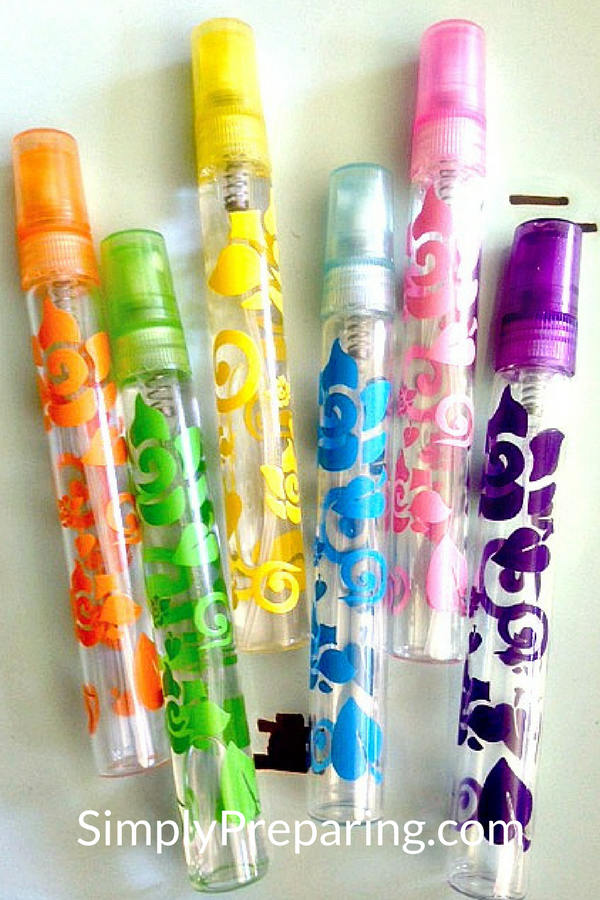 Adding Polysorbate 20 To A DIY Body Spray
For those who like the idea of not having to shake DIY body sprays before they use them, polysorbate 20 may be an option.
HOWEVER, the use of Polysorbate 20 means that your body spray will NO LONGER be considered ALL NATURAL. The Polysorbate 20 emulsifies the essential oils, glycerin and vodka so that shaking isn't required. FYI, this Polysorbate 20 is Food Grade and Kosher.
Your opinion may differ and that's terrific, feel free to leave it out and go all natural. The glycerin may act as a bit of an emulsifier too.
My goal here is to share ideas, and then allow everyone to choose what best fits themselves and their customer base. If you have ideas on how to help emulsify the essential oils with the EVERCLEAR, please share in the comment section!
If it makes any difference, I opt for a Polysobate 20 free body spray as I'm working to remove the toxic load from my home.
The usual ratio for DIY Body Sprays is 1 drop of Polysorbate 20 to 1 drop essential oil. However, I've gotten away with about half of that for customers that preferred me to add it.
If you want to mix your Polysorbate 20 and Essential Oils together first and then stir until the solution is no longer cloudy, that is the usual protocol. Luckily, the Stress Away essential oil doesn't cause any cloudiness, so you could just add them straight to the spray bottle.
PRO TIP: Right now I am running a special on your choice of a Young Living Premium Starter Kit. I'll refund you $25.00 in the form of an Amazon Gift Card or PayPal when your order your kit from me!
More Essential Oil Recipes!
Homemade Organic Brown Sugar Scrub Bar
Lavender Charcoal Soap DIY Homemade Soap Recipe

Homemade DIY Gardner's Soap With Essential Oils