I have always loved the story of Stone Soup. A community coming together to chip in and make something out of nothing is how I envision what I hope my community becomes in an emergency scenario. Homemade dry soup mix made from dehydrated vegetables is an excellent part of your emergency food storage plans. Before I get blasted by the people out there who keep prepping 100% OPSEC (operational security), I have built sharing into my prepping in a short term emergency. I feel the best security is to make sure that no one around me is truly in need. AKA a zombie. Prepping things like this simple Zombie Soup will hopefully go a long way in keeping the zombies at bay for at least a little while.
Soup makes me happy. It signifies warmth and comfort. This weekend I put together Zombie Soup preps out of our Thanksgiving leftovers. I now have everything I need dehydrated and ready to throw together a soup in our 36 qt. pot that fits on top of the turkey fryer, which makes an extremely efficient propane boiler that would provide that needed warmth, comfort, and nutrition in an emergency situation to a large group.
To make Zombie Soup you really don't need a recipe. What you do need is the foresight to put away dehydrated foods in your emergency food preps.
Homemade Dry Soup Mix Ingredients for Zombie Soup: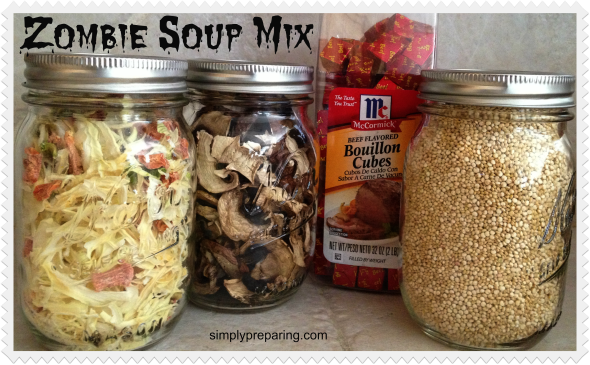 I am a big fan of quinoa for prepping. One cup of cooked quinoa has 222 calories and 8.1 grams of protein. Alternately you could use the prepper staple food- rice or beans or both. If you use quinoa put it in towards the end of your soup cooking cycle as it only takes about 20 minutes in a simmering soup.
Dehydrated mushrooms. One Costco sized mushroom container is dehydrated and packed into this Kerr 1 pint mason jar and 1 300 cc oxygen absorber.
Dry vegetable soup starter. The third pint size jar has 2 1/2 onions, 1/2 Costco sized bag of carrots, and 6 stocks of celery (had these leftover from Thanksgiving)
Bouillon cubes. Sodium and flavor! Or use canned stock. Personally, if I am feeding this to a large crowd I am saving my stock and using cubes with purified water here.
Add as much or as little as you need and want but mark on the outside of the jar what the original volume of the dehydrated foods are. Carrots and celery dehydrate into very small pieces so there is a good deal more there than it appears in its dehydrated state. You could also toss in any meat available.
To save space I could have put the mushrooms in with the soup starter mix, added the bouillon cubes in a small ziplock bag sealed on its on (they have moisture not good for the vegetables) and the quinoa also sealed separately (so it can be cooked less time) all into one foodsaver bag. But to be honest, I can't find where I hid my last stash of foodsaver bags!