In a long emergency, getting to a doctor could take a few days…or weeks. Natural antibiotics may be your first defense against infection until you can see a health care professional. Here are some ideas on natural antibiotics and medicinal herbs to store for emergencies and every day use.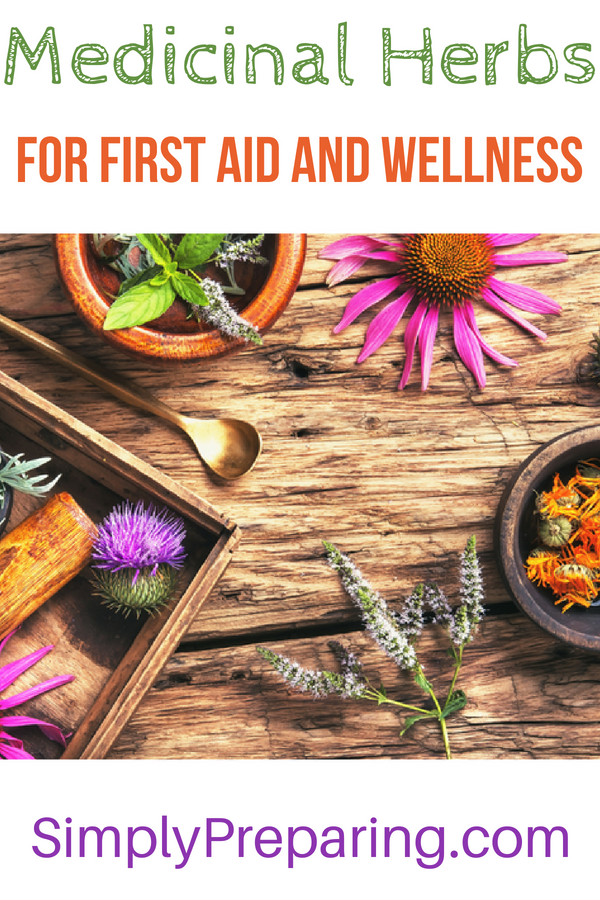 What Is An Antibiotic?
An antibiotic is a medicine that inhibits the growth of or destroys harmful microoganisms. Antibiotics can be taken internally or applied topically. Unfortunately, many don't know that there are natural versions of antibiotics that don't require a prescription.
Did you know, almost every pharmaceutical medication originally came from plants? After they were proven effective in treating various ailments, the pharmaceutical industry then created synthetic variants which they could patent….and charge a fortune for.
Herbal Antibiotics
Golden Seal
*this post contain affiliate links

Golden Seal is a natural antibiotic that has the ability to prevent bacteria from adhering to cell walls. Because of this, Golden Seal is used as a treatment for irritations and inflammation of the mucus membranes. Also, Golden Seal has a long history of being used during the winter and it's associated respiratory ailments.
Echinacea
Used in combination with Golden Seal, echinacea also works to boost the immune system.
Mullein
Mullein is useful for respiratory infections, bronchial infections, and asthma.
DIY Homemade Cold Syrup
1 part dried echinacea root.
1 part fresh ginger root, grated.
Add 2 ounces of the this herb mixture to 1 quart of cold water. Simmer over low heat until the liquid has reduced to 1 pint, creating a very thick tea.
Using cheese cloth or a fine mesh strainer, strain herbs from syrup. Return syrup to pot.
Next, to each pint of liquid, add 1 cup honey, maple syrup, vegetable glycerin, or organic brown sugar.
Warm the sweetener and liquid together just enough to mix it well. Finally, remove the syrup from heat and bottle for use and store in the refrigerator.
If the syrup is too strong, add it to a cup of warm lemon water to drink as a tea.
Mullein Flower – Garlic DIY Herbal Ear Infection Oil
3 Tablespoons chopped fresh garlic
2-3 Tablespoons Mullein Flowers
Extra Virgin Olive Oil
*this post contains affiliate links
1. Place the garlic and mullein flowers in a double boiler with just enough extra virgin olive oil to cover the herbs. Warm for 20 to 30 minutes over very low heat.
2. Strain well, using a fine mesh strainer lined with cheese cloth. Finally, store oil in a covered glass jar in the refrigerator.
When it is time to use the oil, warm a teaspoon of it over a stovetop burner. Only warm it to body temperature. Suction the oil into a dropper, and add 3 drops into each ear, massaging the outer ear around the base. Apply as needed.
More Botanicals For The First Aid Kit
Olive Leaves are said to contain powerful antioxidants, thus promoting general health in the event of colds, flu or infection. Olive Leaves act as a natural antibiotic, inhibiting the growth of bacteria, viruses and fungi.
Elderberries
As you may already know, the minute flu season nears, I crank out the Elderberry Syrup ! Check out our post on how to make your own Elderberry Syrup.

Andrographis
Well known in Chinese medicine, Andrographis supports healthy immunity including lungs, heart and kidneys.
Medicinal Herbs You Can Grow In Your Garden
Nettle
Struggling with seasonal allergies? Drinking Nettle tea regularly is a great way to reduce the symptoms of seasonal allergies. Believe it or not, Nettle's histamine content reduces inflammation caused by seasonal allergies.
Nettle can also be taken in capsule form.
Holy Basil
Incredibly easy to grow in most gardens, Holy Basil helps to strengthen and modulate the immune system. Herbalists use this natural antibiotic for lung issues such as bronchitis and pulmonary weakness. Use Holy Basil to treat and prevent respiratory viruses.
Finally, Holy Basil has expectorant qualities that help move stuck mucus out of the lungs.
The easiest way to prepare basil is as a tea. First, add 1 teaspoon dried Holy Basil leaves to 2 cups of hot water. Steep for 5 minutes. Adding Ginger and Honey will help soothe a sore throat.
FYI: It is believed that Holy Basil may have an anti-fertility effect on both men and women. Do not use if you are pregnant or trying to conceive.
Why Lemon Balm Should Be In Your Emergency Kit
A must have to treat insect bites and stings, Lemon Balm is also very calming and relaxing. Relieve painful cold sores and other herpes outbreaks with this simple plant you can grow in your garden.
To treat insect bites and stings crush fresh Lemon Balm between your fingers, and apply to affected area.
Infuse Lemon Balm into jojoba oil and used as a salve, lip balm, or other treatment.
To infuse oil with Lemon Balm, fill an 8 ounce mason jar with dried and crumbled Lemon Balm Leaves. Cover with jojoba oil and stir well. Keep in a cool dark place stirring daily for 2 weeks. Finally, strain and use the oil as desired.
FYI: In it's essential oil form, Lemon Balm is known as Melissa. While expensive, I always have this essential oil on hand. Here's how to order Melissa Essential Oil.
Topical Natural Antibiotics
Manuka Honey Unfortunately, many believe that any kind of honey can be used as a natural antibiotic, but really it's only Manuka Honey that has this. And we have a DIY Manuka Honey Recipe for you to try!
Essential Oils With Antibacterial Properties
What, you haven't heard that there are essential oils that have antibacterial properties?
Well, according to this study on oregano essential oil done by the Journal of Medical Microbiology, they sure do!