Not many people would argue that water is one of, if not, the most important prep for the beginner to focus on. It's estimated that you can not survive without water for much more than 3 days. In comparison, the average person can go several weeks without solid food. Though I certainly wouldn't want to! Let's do the math to help you calculate what your drinking water storage needs are!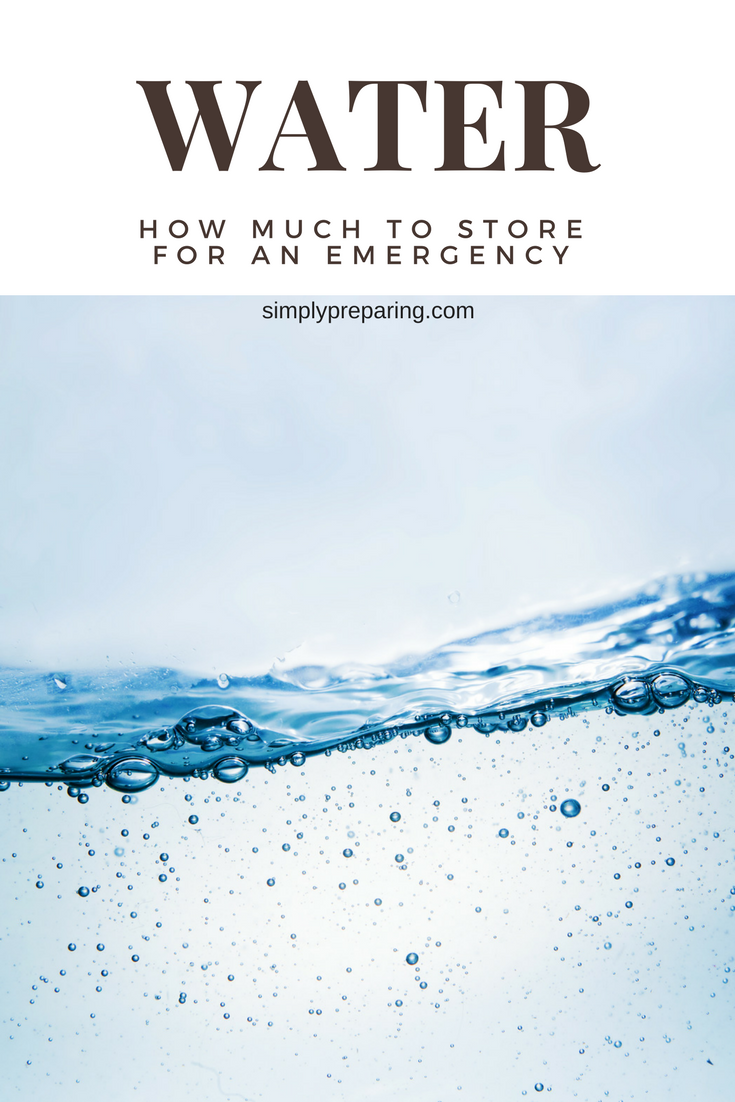 In my opinion, water storage is the first thing a beginning prepper should focus on. But how much do you need? The simple rule of thumb for drinking water is 1 gallon per person per day. Doing the math for a family of 4 that is 4 gallons a day. I plan 2 extra gallons for my two dogs and 1 cat. I also plan to be able to take care of my mom in an emergency bringing our family total to a minimum of 7 gallons per day. If you store that water in 16.9 oz water bottles you need 8 per person per day therefore my family would need 56 bottles a day.
Water Math based on storing 7 gallons a day. Choose whichever form you would like to store it in.

3 days =
4.6 water cases (36 16.9 oz bottles)
12 2.5 gallon rectangle jugs
21 gallon jugs
42 2 liters
7 days =
10.8 cases
21 2.5 gallon rectangle jugs
49 gallon jugs
98 2 liters
Head starting to spin yet?
10 days =
15.5 cases
30 2.5 gallon rectangle jugs
70 gallon jugs
140 2 liters
14 days =
21.7 cases
42 2.5 gallon rectangle jugs
98 gallon jugs
196 2 liters
I have plenty of friends who have been in storms (hurricanes and snow) that did not have water for 5 days and electricity for 10. My personal family goal is to have enough water stored for 10 days. After that point, I have started to think of ways to purify water from other sources and have my water heater to drain as well.
I tend to store water in a variety of containers in combination. One of my favorite tricks is to wash out 2 liter soda bottles with a little bleach water, rinse really well and let them air dry. I refill them with tap water.
Start thinking about what spaces you have to store this water in. Cases do stack well and can use a smaller floorspace footprint. For general cost considerations:
I get the cases of water mostly at Costco for $3.75. Walmart is $4.25
I can find the 2.5 gallon rectangles on sale for $1.99 sometimes but $2.50 is average in my area
Gallon jugs can be anywhere from $.50-$1
2 liters I consider "free to me" because I reuse the bottles the pop comes in as a treat for the kids now and then
Using those costs you can expect
3 days= $18.75
7 days = $41.25
10 days = $60
14 days = $82.50
I accomplished my goal by promising myself that every time I walked into a store I would buy one thing towards the water storage so it didn't kill my budget or my back!
Don't have enough drinking water storage and are facing an emergency?
You need one of these water bobs for each tub and water treatment tabs to add to the water bob to keep it fresh and safe. Additionally, these family lifestraws are perfect for filtering water you are able to collect. You want to have one with your emergency supplies no matter how much water you have stored.
I would love to hear your creative ways to purchase and store water! What tips do you have to share? Or are you completely freaked out at the mass enormity of how much water you would need just to drink?