As I write this post, parts of the country are either flooded or fleeing the path of Hurricane Irma. Other states, Oregon, Washington and California are on fire. If there was ever a time to begin preparing your family for an emergency, now has to be it. One item that should be in every family's preparedness kit is an emergency face mask.
*this post contains affiliate links
Which Type Of Emergency Face Mask Should You Buy?
Let's run through the different types of emergency face masks and their best uses.
The lowest level of protection is the humble *this post contains affiliate links dust mask. Inexpensive. Disposable. It's the sort of mask you would need to protect against pollen, household dust, cut grass. It is NOT NIOSH approved protection. It's really not going to offer much protection, and the only reason I mention it here is to help you tell the difference between this and a particulate respirator mask.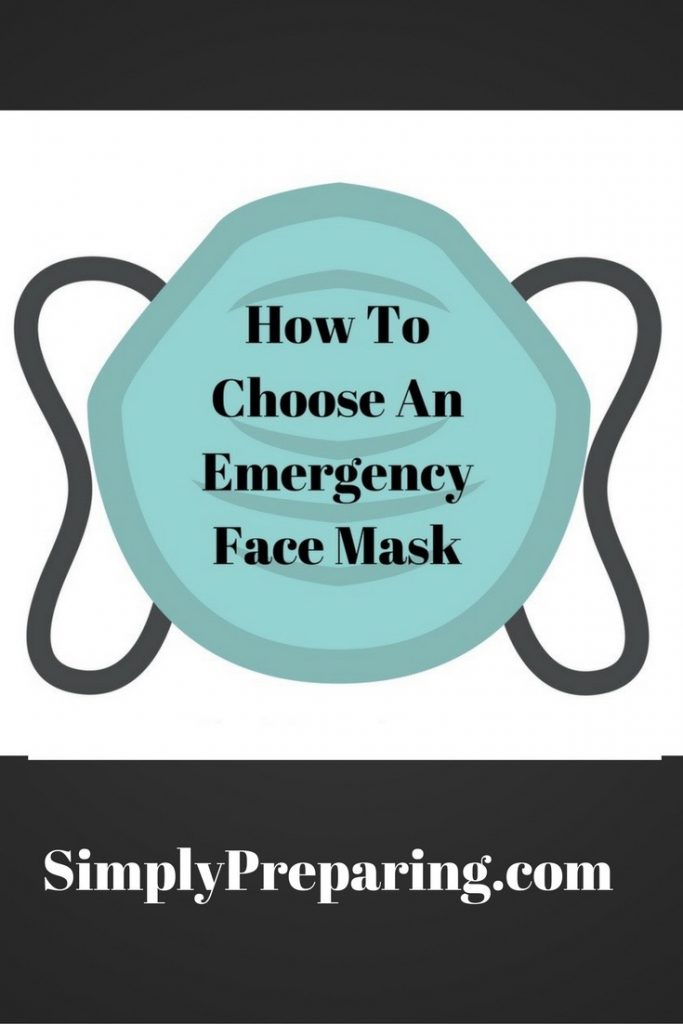 N95 Emergency Face Masks
A better choice for an emergency face mask is a particulate respirator, an N95 or above. These are the types of masks suggested a few years back when the Swine Flu and Influenza were such concerns. These filter 95% of 0.3 micron sized particles.
Particulate respirator face masks conform a bit better to your face, unless you have a beard. These masks give you more protection from microscopic particles in the air.
The N95 masks can be found with 'cool flow valves' that help to reduce heat build up, moisture, and fogging, all of which help to make breathing while wearing this mask easier.
Because N95 masks are NIOSH certified, which means the respirator has passed stringent government performance standards including filtration efficiency testing and provides at least 95% filtration efficiency solid and liquid particles that do not contain oil.

N95 masks have been a popular choice for protection from the smoke from fires, city pollution, viruses (H1N1, etc.) and allergies.
N99 Emergency Face Masks
Newer on the market are masks like the Cambridge Mask, which is a N99 mask. More expensive, but reusable, Cambridge Masks provide protection against gases, smells, all PM; PM2.5, PM0.3, pollen, smoke and pathogens such as viruses (99.6%) and bacteria (99.77%).
As per the Cambridge literature:
Filters used in the Cambridge Mask meet the N99 standard (higher than N95). This is a US Government specification for pollution masks. Cambridge Masks have been independently tested by Nelson Labs, USA which confirmed almost 100% of particulate pollution, bacteria and viruses were successfully filtered when tested. We have also tested to meet the standards for Chinese NK-95 and Korean Food and Drug Administration requirements. The masks use a triple-layer filter system which will protect from a range of airborne contaminants.
Please, check the specs on ANY emergency face mask purchase you make.
PRO TIP: Remember viruses are transferred not only by touch, through a sneeze, these bugs can also enter through your eyes. Good hand washing and keeping your hands away from your face is important.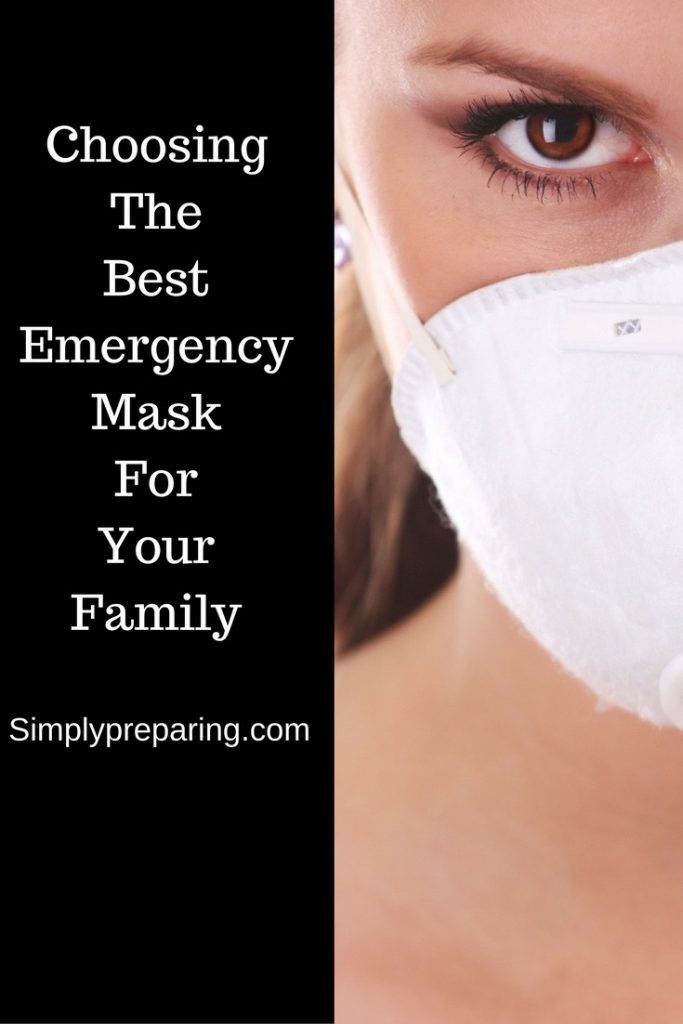 Should You Buy A Respirator?
Next up, Respirators. These provide at least 95% filter efficiency against solid and liquid aerosols as well as some organic vapors. It will filter pesticides and some viruses too. Basically, you get a much better seal with this type of face masks, which offers better protection. If you want to amp up this protection add a pair of safety goggles.
Respirators work well for those with serious breathing problems, allergies, and a need to be protected from bad smells. Think of it as a really jacked up version of the paper N95 masks that can also filter out strong odors.
PRO TIP: At around $30.00 a pop, respirators are a great choice for protection. But make sure you pay attention to the SIZES they come in, usually Small, Medium, and Large. The effectiveness of any face mask depends on how well it fits.
Full Facepiece Respirators provide a good seal around your face, AND protect your eyes. More expensive, but if this is a big concern for you, worth every penny.
Another choice you may want to consider is the ReadiMask, a single use, full face respirator that uses medical grade adhesive to create a secure barrier to your face.
What Face Mask Should You Choose For Mold Removal?
Let's face it. In the aftermath of a hurricane, a lot of people are going to be dealing with a lot of mold. You are going to need a Mold Remediation Respirator kit.
Mold is nasty stuff. Don't try to use a paper face mask or simple respirator for this job.
When Are Gas Masks A Good Choice?
Considering today's world events, there is value in a good gas mask. Again, it's all about your personal circumstances. The Israeli Gas Masks also run in the $30-40 dollar range.
Pro Tip: Regardless of which face mask you choose, wearing them is a bit of a learning curve. They are uncomfortable and can look scary on, especially for children. Take some time and practice wearing your masks BEFORE an emergency.
What face masks do you have in your emergency supplies? What type do your pack in your 72 kit?
Save