This simple DIY facial wash recipe with essential oils takes easy to new heights. Seriously, 10 minutes from start to finish! Most of all, this recipe creates a non-drying, cost effective, facial wash! You will love this. Promise!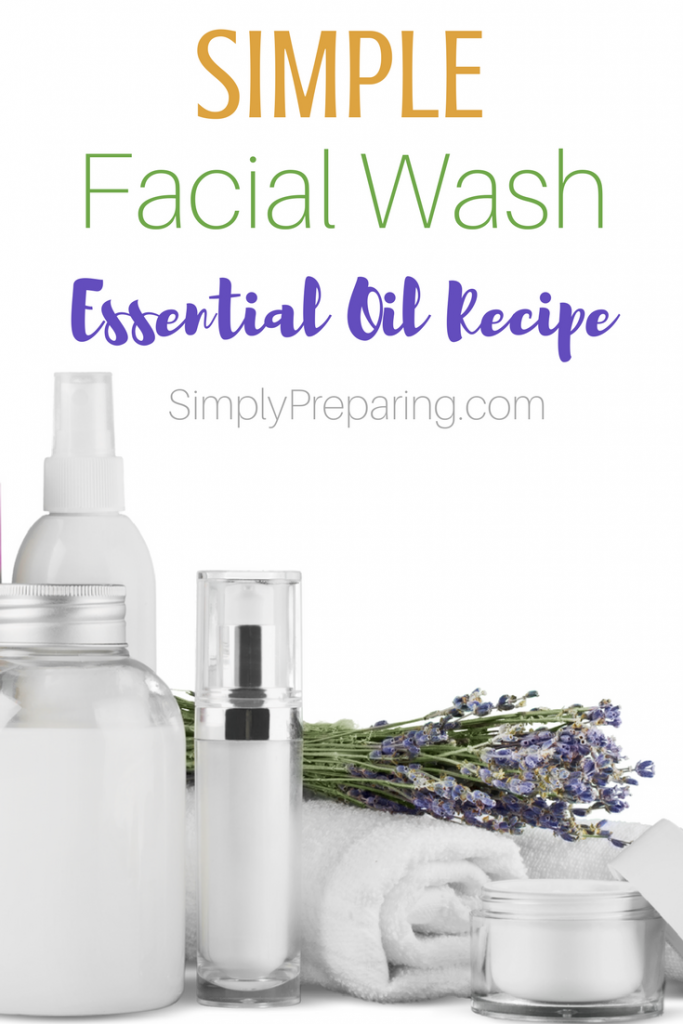 Essential Oils In The Simple DIY Facial Wash Recipe
Did you know that Frankincense essential oil maintains glowing skin? It's true.
And Lavender essential oil gently cleans as it reduces the appearance of blemishes. In addition, it soothes minor skin irritations, and is good for aging skin. It's all around good stuff.
Due to the combination of Frankincense and Lavender, this face wash provides wonderful skin support. In addition, you also experience the grounding and relaxing properties of each oil. A spa quality experience every time you clean your face.
Here's where you can order Young Living Essential Oils
Facial Wash Recipe Ingredients
*this list contains affiliate links
1/2 C Unscented Dr. Bronner's Castile Soap
1 C Distilled Water
2 Tablespoons Jojoba or Sweet Almond Oil
15 drops Lavender Essential Oil
15 drops Frankincense Essential Oil
1 16 ounce essential oil safe plastic flip top bottle.
Directions For Simple DIY Facial Wash Recipe
Combine all ingredients into a 16 ounce plastic flip top bottle and shake to mix That's it! Now go and wash your face! We'll be here when you get back.
Follow Up With Our Simple DIY Facial Toner
We know a great facial wash needs to be followed up by a terrific facial toner. So, we created our Simple DIY Facial Toner Recipe With Essential Oils!
Looking For More Essential Oil Recipes?
Here are more essential oil recipes, enjoy!
Homemade DIY Gardeners Soap With Essential Oils
Simple DIY Facial Toner With Essential Oils
DIY Manuka Honey Recipe For Preppers