A simple DIY facial toner needs to be in everyone's skin care regimen. Because you don't want chemicals in your skin care, we use only truly natural ingredients in this recipe. Our simple, make your own recipe, not only works, it saves money too! Woot!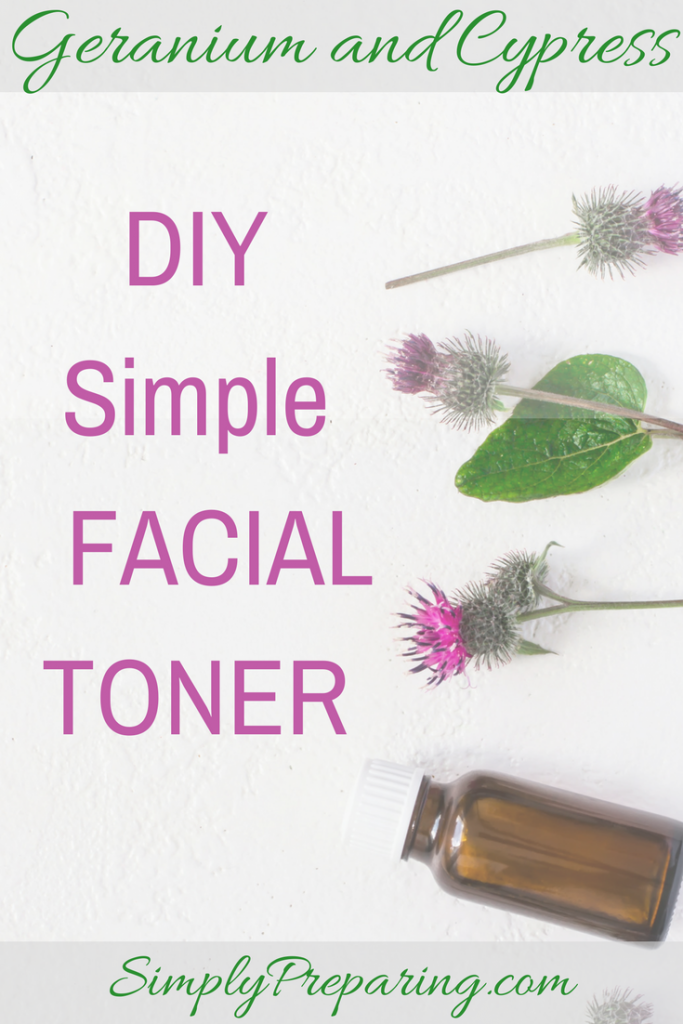 Why You Need An All Natural DIY Facial Toner With Essential Oils
A good quality toner helps to restore natural skin pH. Facial toners can also help shrink pores and balance oil production.
When used under makeup, toners can provide a protective barrier on the skin to prevent impurities from makeup and pollutants in the air from penetrating the skin.
Simple DIY Facial Toner Ingredients
*this list contains affiliate links
2 Ounce Spray Bottle I love these blue spray bottles! So pretty!
2 Ounces Witch hazel This is my favorite brand of Witch Hazel.
1/2 teaspoon Vitamin E
3 drops Young Living Cypress Essential Oil
3 drops Young Living Geranium Essential Oil
2 drops Young Living Frankincense Essential Oil (optional)
3 drops Young Living Tea Tree Essential Oil (optional)
Here's how you can order Young Living essential oils.
How To Make Our Homemade Facial Toner
Fill 2 ounce bottle with Witch Hazel, and then add essential oils and vitamin E. I use *affiliate link a small metal funnel to make things easier. Shake well before use. That's it! Pretty easy, eh? Told ya so!
Pro Tip: During the summer I LOVE to put my Simple DIY Facial toner in the fridge. Then, when I come in from spending time in the garden, or working out, I grab my chilled toner, spritz and refresh! That's on of my favorite Summer tips!
Here Are a Few Other Essential Oil Posts I Think You Will Like:
Lavender Charcoal Soap DIY Homemade Soap Recipe
How To Make Your Own Manuka Honey
Frugal Laundry Hacks: Wool Dryer Balls
PS: Here's how you can order Young Living Essential Oils!