Water is a first priority in the preparedness world, and for good reason. In as little as three days without water, humans die. Because of this, we talk a lot about water on this blog. Today we are going to talk about how to attain 100 gallons of emergency water storage in as little as 15 minutes.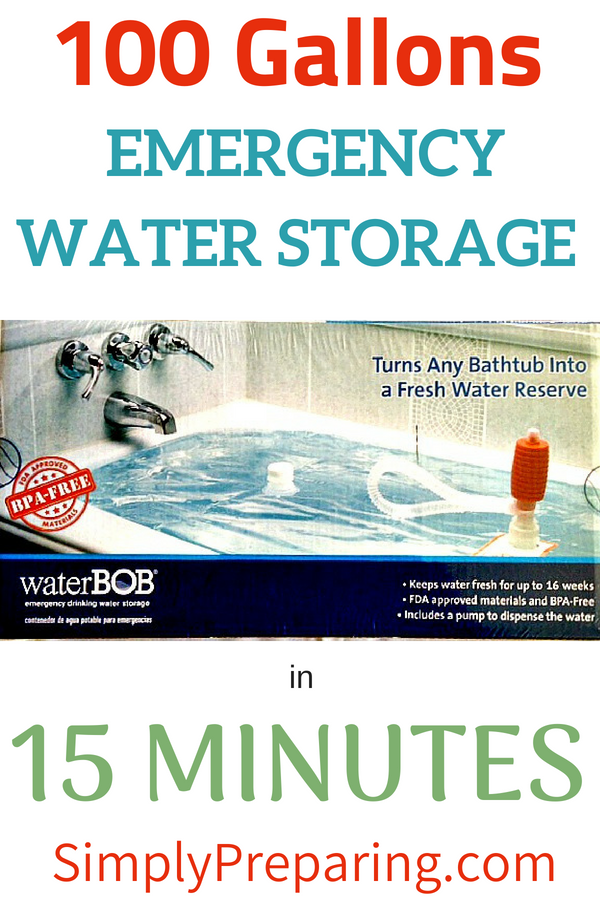 How Much Emergency Water Storage Do You Need?
Generally about 8 bottles of bottled water equals one gallon. If there are four people in your family, you'll need at least 32 bottles of water per day. Cases usually have 24 bottles. For a basic week's worth of emergency water storage, at one gallon a day, you'd need just under 10 cases. Double that if you want 2 gallons a day per person.
PRO TIP: Learn More About Calculating Drinking Water Needs
But what if an emergency is imminent, and you can't get to the store to top off your water storage? What if the stores are out of water?
100 Gallons Of Emergency Water Storage in 15 Minutes
But, what if I told you there was a way to get 100 gallons of emergency water storage in 15 minutes or less?
Let me introduce you to the *this post contains affiliate links waterBOB. The waterBOB is a water containment system that holds up to 100 gallons of fresh drinking water in any standard bathtub in the event of an emergency.
During a hurricane or tropical storm, water main breaks and storm surges can interrupt or even contaminate your water supply. It is during these conditions the waterBOB may be used for temporary water storage. Constructed of heavy duty plastic that is FDA compliant for food storage, the waterBOB keeps water fresh and clean for up to 16 weeks.
PRO TIP: Live in an area where Hurricanes are likely? This post could save your life: Survive Hurricane Season Prepping Checklist.
More Posts On Emergency Water Storage
Bottled Water Contamination l Survival Water Filter