I love that Red Lobster cheese biscuit that makes you sigh with delight each bite you take. I wanted to make them at home, but I didn't want to go to the work of making individual biscuits. Instead, I decided to try this recipe for Red Lobster Cheese Biscuit Bread. Baking this copycat bread in a loaf pan means less hands on time in the kitchen, and that makes this busy Mama happy.
Tools Of The Trade

*this post contains affiliate links
The loaf pan you choose for making Red Lobster Cheese Biscuit Bread is important. If your pan is too thin you will wind up with a crust that is burnt. I discovered this the hard way, unfortunately. Therefore, you want a heavy weight pan that will allow your loaf to cook evenly. After a bit of research, I found these *this post contains affiliate links USA 1 1/4 Pound Loaf Pans, and promptly fell in love.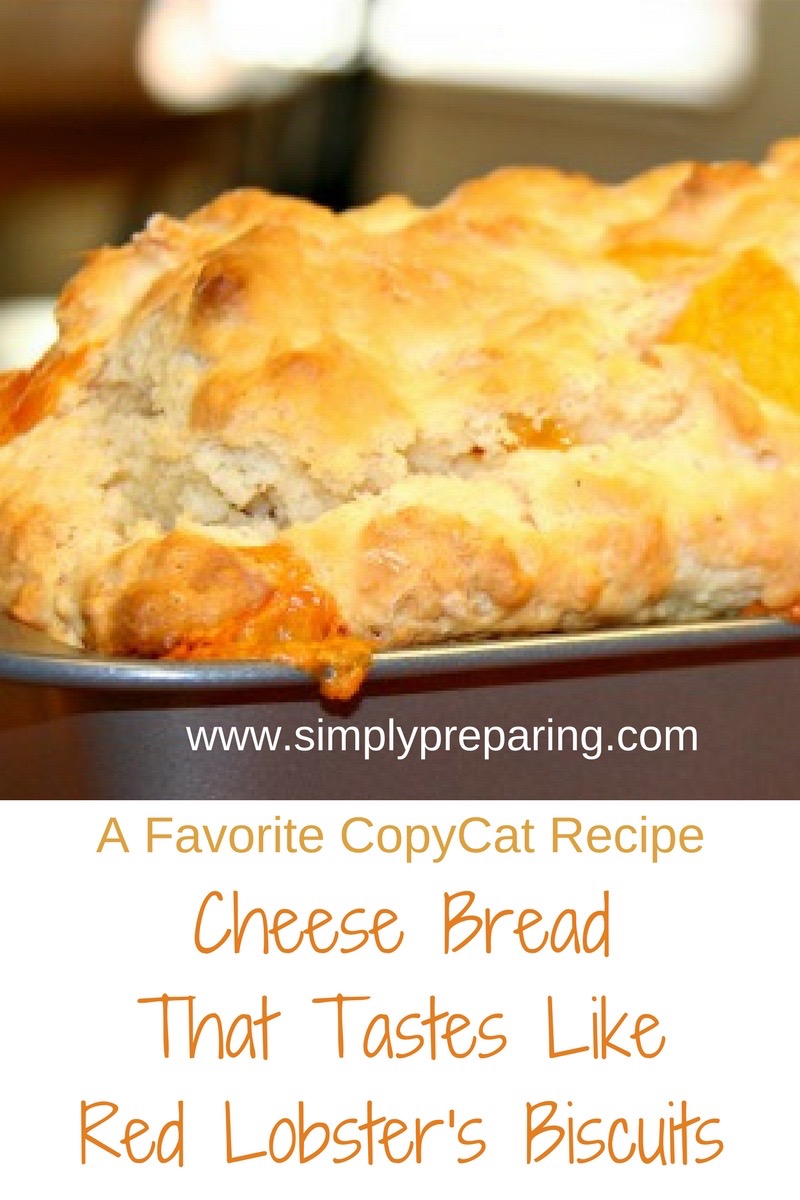 Ingredients for Red Lobster Cheese Biscuit Bread
*this recipe makes one loaf
3 Cups Flour
1 Tablespoon Baking Powder
1 teaspoon Salt
1/4 teaspoon Cayenne Pepper
1/8 teaspoon Black Pepper
4 Ounces Cheddar Cheese Cut In 1/2 Inch Cubes
1 1/4 Cups Milk
3/4 Cup Sour Cream
3 Tablespoons Butter, Melted
1 Egg, Lightly Beaten
Bread Making Technique for Red Lobster Cheese Biscuit Bread
*Heat oven to 350.
*Grease a 9×5 loaf pan with oil.
*In a bowl, whisk together the first 5 ingredients.
*Carefully stir in cheese cubes until covered in flour mixture. This will help prevent your cheese sinking to the bottom of your loaf of bread.
*In a separate bowl, whisk together the remaining ingredients.
*Fold the wet mixture into the flour and cheese mixture.
*Stir until just combined. Because the dough is thick, I like to use a large wooden spoon to do my stirring with. Do not over stir. Your masterpiece will turn out like a giant hockey puck.
*Pour and spread the mixture into your bread loaf pan.

* Bake for 45-50 minutes. Let cool 10 minutes and then remove from pan. Allow to cool for one hour before slicing and serving.
*Sigh with delight.
So, the next time those cheddar bay biscuits are calling your name, remember this made from scratch, super easy recipe!
Helpful Hint: Like this Red Lobster Cheese Biscuit Bread so much you want to add it to your regular bread making rotation? Use our Family Food Storage Plan to figure out how much of each ingredient you'll need to store to make this recipe part of your 3 Month Food Storage Plan!
Save